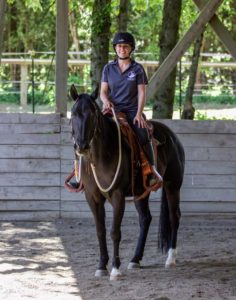 Congratulations to Casey A. who has been named Volunteer of the Month for February in recognition of her stellar ground work and riding. "Casey is tireless, has a great attitude, is a star stall cleaner and communicates well with our ponies," said SAFE Volunteer Manager Jane Millar. Trainer Joel Conner also praised the thoroughness of Casey's prep work that sent Stevie to training with a great foundation for riding.
Casey started riding when she was eight at a small hunter/jumper barn in upstate New York. "I was hooked immediately," she says, "and started spending every spare minute around horses, doing chores in exchange for lessons and board. Lady Louise, my first horse, was a small chestnut Arab with a flaxen mane and tail who, I like to think, chose me as much as I chose her. Affectionately known as Her Mareness, Lady taught me the value of elbow grease, gumption and quality. At nearly 30, she is now happily retired and well-loved by my mom, Sandy, in New York.
"Horses had become an indelible part of my life, so when I moved to the Seattle area in 2012, I was feeling the void. In the spring of 2013, I serendipitously found SAFE and started volunteering on a Tuesday night chore shift. Shortly after, I joined the riding and training program. Being a part of the SAFE community has felt like a gift. I have learned so much since joining the team, and I feel so fortunate to be surrounded by like-minded and strong horse people."
Casey says she can't choose a favorite SAFE horse, and is struck by how resilient and forgiving they are with kindness and consistency. "Right now, Stella, Stevie, and Jewel are keeping me on my toes," she says. "They are each remarkably different, and I feel so fortunate to have the opportunity to learn from them."
SAFE is fortunate to have volunteers like Casey A., who work so hard to keep our horses healthy and on the path to finding their forever homes.