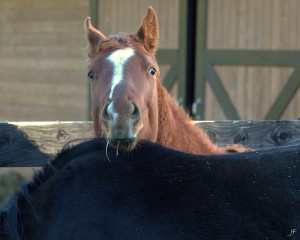 Well color me impressed! Jessel had her first health check up with Dr. McCracken and she was a superstar. She was a little shocked by the first vaccine but it only got better with the others. We will be giving her more boosters in a few weeks but at least she won't need a dental exam until closer to when she is started under saddle. She has gained a good amount of weight and is very playful and happy.
We have started to lightly ground work Jessel and are training her to be good to lead, not crowd one's space and be comfortable having her feet picked. This will take some time to master but she is very smart and learning quickly. She is a little "pushy" on her right side so we are leading and working her from that side to get her used to people on both sides.
Jessel's personality is inquisitive and brave with an underlying sweetness. It looks like she will mature to just under 15 hands and that she will be a pretty little mover. She still needs exposure to new things and to learn that humans can be her leaders. Our biggest challenge will be in a few weeks when we have to separate her from Bean. Hopefully, our relationship with her will be good enough to comfort her and Bean during that process.