Miss Amelia is doing very well at SAFE. She has a great friend for turnout in Tabitha, and her overall happiness seems to have increased. We have been working her a few times a week on the trail obstacles at Safe Harbor. Her behavior continues to improve but she still seems uneasy when tied up and groomed. If we don't tie her, she seems a bit happier. It's possible she had a bad experience while tied at some point in her past.
Last week we took her out and hand walked her on the trails. She really seemed to enjoy being out in the woods with her friends. She walked over the bridges and was unbothered by noisy cars, a wood chipper, bikers, and kids playing in the park.
To find out why she is still itchy during the winter months without the presence of bugs, we decided to do an allergy blood test. In addition to being allergic to flies, we found out that she is also allergic to alfalfa hay and rice bran. We have taken her off senior feed and California Trace because both contain those allergens. She eats hay but doesn't eat enough to maintain weight, so she needs extra calories. To do this, we put her on timothy pellets and LMF Super Supplement for vitamins.
We have also been trying to help her roached back. Dr Meyer from Pilchuck has come out twice so far to help adjust her and give her more comfort. The first adjustment was difficult, and Amelia was very reactive and even kicked out during the adjustment. The second adjustment was MUCH easier, and Dr Meyer said that she had held much of the adjustment. We will be having her seen again in hopes that the muscles along her spine will have relaxed and gives her more comfort. At that time we will see if she is comfortable enough to carry a saddle and rider. It would be nice if she was happy carrying a rider for lead line or trails. She loves kids so if that is possible, she may find that to be a great future.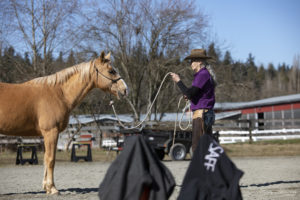 Last weekend, volunteer Phoebe took Amelia into the Horsemanship groundwork class. They have a beautiful connection and Amelia is very happy when Phoebe is working her. She still tests Phoebe from time to time, but Phoebe's kind manner helps Amelia feel love and support. Here is what Phoebe had to say about her experience with Amelia in the clinic:
Although I only got to attend the Saturday & Sunday groundwork sessions, I don't think it affected the strides forward that Amelia accomplished in her understanding, willingness, and skill set. She retained a good attitude with soft eyes and a willingness to try . The biggest "a‑ha" moment for me was realizing how front heavy she is, and how setting her back before beginning her next step was a big help to her, to the point that she was beginning to set herself back by the time we finished the clinic. She is starting to back in circles left and right — and staying soft, which for her is huge. Her neck was hard as a washboard 4 months ago. It is wonderful to see the partnership she is willing to offer as she builds a hesitant foundation of trust.