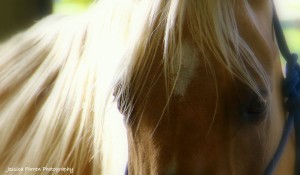 We are again working with our farrier to find the best shoe package to help Phoenix's soundness. Last summer, Dr. Devine from Pilchuck did a big work up on our golden child which included x‑rays. The conclusion was that the root of his lameness is navicular syndrome. Navicular is somewhat manageable with shoes but the condition can also require injections or anti-inflammatory drugs. Currently we are trying to manage it with the right shoes but with some changes in farriers recently, that has been a bit challenging. Our new farrier, David Barron, will be seeing Phoenix next Tuesday. He has had a lot of experience working with special shoeing needs and we are hopeful he will offer a solution.
For each horse, it is our responsibility to make certain a potential new owner has all the information needed to make an educated and informed decision before they become that horse's forever home.
Given Phoenix's health history, it is difficult to know what his future soundness will be. An interested party would need to accept that Phoenix will need support to be sound, and even that may not be enough to keep him going as a riding horse. There is a possibility he may never be a sound enough for a heavy riding and he will have both good and bad days. What's hardest is that even with the help of a good veterinarian and farrier, at best, he might only stay sound part of the time. It is essential for him to be adopted to a home that is going to love him and keep him even if he's not sound.
Phoenix is a very sweet boy who genuinely needs someone to love him regardless of his ability to be a riding horse. He is a great companion and does well with other horses in a small herd. At Safe Harbor Stables, Phoenix is known to everyone in the neighborhood as the horse who stands watch outside the barn and greets people as they go by. Our hope is that he can be enjoyed by someone no matter his ability to be ridden. He does like having a job and it would be nice if someone would want him for light riding, pleasure and maybe some liberty type work that would not require him to perform in a show arena.
Are you interested in giving this special horse a forever home? Please email adopt@safehorses.org with questions or fill out our adoption application online.