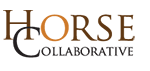 Anakin and the Anatomy of a Horse Rescue
From the racetrack, to the research lab, to death's doorstep
by Bonnie Hammond
Published Dec 16, 2015
Link to the story online at HorseCollaborative.com
Link to the story on Horse Collaborative's Facebook Page
For us, Anakin's story began early Monday morning with an email asking for our help. It was from a woman in Winlock, Washington who wanted to know if SAFE had room to take in an emaciated Thoroughbred gelding.
The horse had been rescued a few days earlier by her young boarder, and it had become clear to her that he was going to need much more than either of them would be able to provide or afford. While SAFE's intake team was discussing how best to help, a second email arrived. The horse was down on the ground and was unable to get back to his feet.
Two days prior, they had faced a similar situation with Anakin, and the Washington State Animal Response Team (WASART) had been deployed to the property to hoist him to his feet. Now, Anakin was in trouble again. He'd laid down to rest and his weakness, combined with the wet, over-saturated ground, made it impossible for him to stand up. He was stiff, cold and tired, and there was more bad weather on the way.
Once again, WASART answered the call and sent a team out to assist Anakin a second time. Using a Häst tripod, a Becker sling and a large group of manpower, WASART responders safely returned Anakin to an upright position. (The story and photos of this rescue operation are amazing, so if you've not seen them, visit WASART's Facebook page to experience this incredible feat of rescue, and consider making a donation to this all-volunteer organization.)
More than one rescuer commented on Anakin's demeanor during the complicated procedure. He was calm, relaxed and fairly unconcerned about what was happening. WASART responders often find that horses who have been through such an ordeal will eventually just give up and give in to exhaustion. Not Anakin. Clearly this was a horse with a strong will to live. Continue Reading on HorseCollaborative.com