SAFE made a new friend in 2018 when we started Raven on her automatic feeder. We ordered a replacement power supply for a donated iFEED unit, and through a reply email we learned that the US division of the company was based right here in Western Washington. Not only were they right in our backyard, but a representative for the company was willing to come out and help us install the donated unit. That's when we met company rep Ulla Dahl. Ulla has been a resource and friend to SAFE ever since.
We recently put Amelia on the feeder to help with her GI troubles. Ulla has been there every step of the way with us. It's wonderful to do business with a company that has such excellent customer service. Any questions that we have about the feeder are promptly addressed, and it's clear that the iFEED company has a horse's welfare at the forefront of their values.
To our surprise and delight, iFEED donated some gently worn units to the SAFE horses. We are excited to be able to put them to use to help solve a variety of different feeding problems.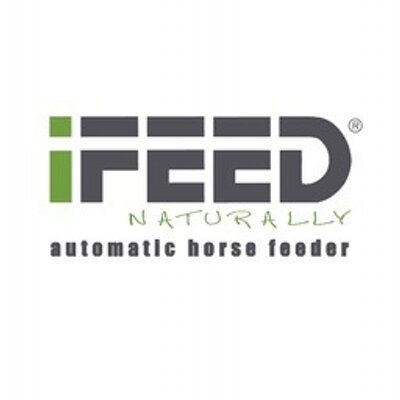 Amelia uses the iFEED in her stall and now also has a battery-powered unit in her paddock so that she can have small portions of equine senior dispensed throughout the day. The iFEED helps mimic a horse's natural grazing pattern by dispensing small portions of feed at regular intervals. Amelia basically eats every 30–60 minutes all day long, which helps her produce saliva throughout the day. Saliva is nature's buffer against stomach acid. Because saliva is only produced when a horse chews, feeding large amounts of grain in one sitting followed by several hours of fasting can lead to gastric ulcers. It can also create problems like colic and behavioral vices like cribbing and weaving.
Farley has also been given an iFEED unit, because he is on large amounts of equine senior for weight gain and because he can't chew hay very well. We previously fed Farley 3–4 pounds of senior 4 times per day, and he would not always finish these larger meals. Because of this, his weight gain has been slower than we had hoped. But now he gets his entire allotment of grain while he's in his stall, little bits at a time. He's eating all of his feed now, and we're already seeing him put on weight after just being on the feeder for about a week.
We've also started to use the feeder for horses who bolt their hay and are prone to being overweight. Owen has been our first horse to try it out for this purpose. He gets hay to keep him occupied during turnout, but has been switched over to timothy pellets dispensed through the iFEED while in his stall. In dispensing small portions throughout the evening, we can keep Owen feeling like he's grazing while also being able to cut back in the amount of feed he gets to help control his weight. It's too soon to see a difference in his appearance yet, but we're optimistic that this will be a great management option for him and horses like him.
We're incredibly grateful to iFEED for their generosity and their commitment to equine welfare. In an ideal world we'd be able to have all 30 of our horses eat around the clock the way nature intended, but at least we now have the ability to do this for 5 of the horses who can benefit from it the most.
Learn how iFEED can help your horses by visiting their website at https://ifeednaturally.com/ Be sure to tell them that your friends at SAFE sent you!!