Congratulations to our July Volunteer of the Month, Amy! It's a joy to have Amy at the barn, she always greets you with a smile and her passion for SAFE is infectious. She started out on the Thursday AM team, but quickly started filling in on her other "day off" because she loves being at SAFE. Amy helps with events, comes early to help the Barn Staff when needed, loves baking (No, she did not bribe us with baked goodies for her nomination) and bringing treats for birthdays and just regular ol' Thursdays. She is always looking for other ways to help the staff and her teammates out, we are truly lucky Amy found us and shares her passion with everyone she knows. Learn a little about Amy below.
How and when did you get involved with horses? Do you have one now that you want to tell us about?
I was raised around horses in a casual and inconsistent way. My mom was a Washington State Rodeo Queen, and while she didn't have a horse while raising me, she did pass on her love of horses to me. Growing up I spent summers living with my grandparents in Enumclaw, they had a pony and our neighbors had Quarter Horses. I was always around horses but was never really taught the how or the why about them. I like to say, I was able to stay on just fine but I clearly didn't know how to ride. Currently I don't have a horse but one day I hope to. Besides learning at SAFE, I'm taking weekly lessons so one day I'll be a great owner and rider.
What do you like most about volunteering at SAFE?
I really can't pinpoint one thing because I like so much of it. The horses are something I knew I'd love but the unexpected bonuses have been the people and friendships I've made. I also love working outdoors, I love the physical labor of it all, and I love how much I'm learning. Also the inspiration I get from the retired women who volunteer at SAFE is insane. You want something done, give it to a retired woman, these ladies are powerhouses and a wealth of knowledge. All around I really look forward to Thursdays. It's my favorite day of the week.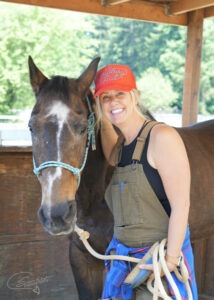 Do you have a favorite SAFE horse?
YES! — It goes without saying that Roy is my favorite. He is named after my grandfather and I just love his sweet nature. Such a survivor. I'd also say that Tiva is a favorite. She is a favorite as I've seen so much growth in her. She is proof that animals and humans can heal and regain trust. She has been fun to watch develop and I'm so glad she has friends now.
What do you do when you're not horsing around at SAFE?
I do my best to travel and collect Delta Skymiles, and I work. For almost 20 years I've owned a hair salon in Seattle and besides SAFE, the salon really is my happy place. I feel fortunate for great co-workers and amazing clients (who are both constantly hearing about SAFE)
Do you have a family member or special people in your life who support your volunteer work?
My husband John is a great supporter of me being at SAFE, (and also a good one to have at the auction, haha) My salon girls are always cheering me on and asking about SAFE stories.