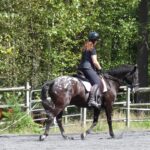 Kellie has had a love for horses (and dogs and cats) her whole life, starting at a young age, riding with her cousins in Oregon every summer at her grandparents' place. Every summer her grandparents had a new pony for her to ride. When her parents moved back from Alaska to the Pacific Northwest in the early 70's she got her very own pony, despite her dad's resistance to both a pony for her and a motorcycle for her brother.
That led to lessons on her mom's horse, starting out Western and ending up doing Hunters and Jumpers with her newly relocated (East coast) trainer at Washington Zone shows. She "took time off" from horses to go to the University of Washington, and as soon as she graduated she bought herself a horse! BJ was supposed to be an eventer, but he seriously didn't like to jump and he became a dressage horse instead.
Although he was not the world's greatest mover, they managed to show at National level shows through 4th level and school all the FEI movements. She learned so much on him and apprenticed with a local trainer to learn even more. She studied with Henrik Johansen who founded the Positive Riding System, a system that applies the classical theories and philosophies of dressage to accommodate the conformation, instincts and behaviors of all types of horses. She's a graduate of all the instructor modules through FEI, and the USDF L program, and judges dressage schooling shows locally in Washington state. Previously, Kellie volunteered as Dressage Director for Equestrian's Institute, and ran National Level and local schooling shows for E.I. for several years.
She and her and husband Peter both ride dressage, and own a small horse farm in Duvall. She teaches dressage locally and occasionally clinics out of the area. She has worked with SAFE in the past to foster a couple of SAFE horses, including Rocky and Misty.
Kellie recently retired after over 25 years in the Dental world. She plans on a few new horses, volunteering with SAFE and some travels as she and Peter find the time to escape!