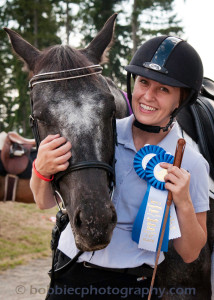 I am very pleased with Lola's growth overall the last 7 months. I have had countless volunteers and others remark at what a different horse she is to handle and how nice she looks under saddle. She was a star at the SAFE Benefit Show. Honest and well-behaved throughout the weekend…I couldn't have dreamed of a better showing.
Unfortunately, during turnout on Wednesday before the show, Lola was rolling in her paddock and injured herself by getting caught in the hotwire. Her left leg was swollen and she was tender on it Thursday. We took it easy with her and lightly worked her Friday. Wrapping, cold hosing, ice and hand walking helped some.
On Saturday she was still a little puffy in the fetlock but she was very well behaved for Casey and me in our classes. She placed in the top of almost all of her equitation and pleasure classes. That afternoon I took her into two walk trot canter classes. Of these she went into the Advanced Pleasure class in which she did very well in the canter and did her first walk canter transition without any fuss!
I am very pleased with her overall work ethic and willingness to go forward under saddle. She received the Champion Rescue Horse for the entire show which is a true testament to what a lovely and mature horse she is becoming.
I also wanted to say a special thank you to Casey for working with Lola both before and during the show! Lola and Casey are an amazing team together, and it's great to see Lola's new found attitude and willingness transfer so easily to another rider. Lola is lucky to have a friend like Casey!! And Casey is pretty lucky too…just look at that smile in the photo above!
Here are more photos of our Champion Rescue Horse, thank you Karen Wegehenkel and Lorna Willard for these lovely shots!