Congratulations to our March Volunteer of the Month, Lise!! She started on the Wednesday PM team during the infamous 2020 and quickly became a dedicated, reliable team member who fell in love with SAFE. As a Co Lead, she has helped train many new volunteers and is very patient with what at times can feel like a revolving door of new teammates, adding a sense of humor that is necessary for the position. Her emails always make me laugh.
Eventually Lise joined the horsemanship program, dedicating several evenings a week after working a full time job. In November, when we had an influx of a brand new herd of 16 horses, Lise signed up to help on Saturday mornings, dedicating one of her days off to help not only our horses, but our volunteers and staff. Lise's dedication to the many facets of SAFE is inspiring and we are very lucky she fell head over heels for SAFE. Learn a little more about Lise below.
How and when did you first get involved with horses?
My Mom got me involved with horses when I was in middle school. She knew someone who had horses and I got to hang out and learned to groom and muck stalls (my dream came true). Getting to ride came a bit later. There was a period of time in early high school when I took weekly lessons, showed locally and then on Sunday's, (we thought it was more fun than going to church 😂) my Mom, Dad and I would ride cross country through fields and over natural fences in SW Connecticut at the equestrian center where I took lessons.
I never had a special heart horse, but I do recall the names of those I rode early on who made an impression on me. There was LB (yes her name WAS Little B…. ) and I still have a bum left ankle thanks to her dramatic refusal at a fence and Beau who was the kindest gelding and the smoothest ride ever!
Do you have one now you want to tell us about?
I've never owned a horse. I got to lease a 16H chestnut QH/TB cross named Applejack for $200 from Mt Holyoke College one summer in the early 1970's (they leased out their horses so they didn't have to feed them in the summer when students were off campus). A friend's family had a "farm" in Southern Vermont and I spent a summer taking riding lessons, showing in a local small town horse show, rode and performed in a drill team, did a day long 35 mile competitive trail ride and rode bareback on back country roads and worked on and off as a part-time as a barn hand at West River Lodge (a stay and ride quaint Vermont Inn).
I smile as I can still hear my mother telling me, "you will be a better rider if you ride lots of different horses". This of course was her strategy to keep horse ownership off the discussion table. To this day that mantra continues to play in my mind. But I should add, that in spite of her own words, my Mom did not follow that advice for herself and owned her first and last two Arabian mares for the last 15 years of her life. Thank you to Ragtime and Haley for bringing her so much joy right to the end.
What do you like most about volunteering with SAFE?
Those who get it- will get it as it is a bit difficult to explain. There are so many things. There are the horses of course. But the things I also know for sure are that the training method, always having new things to learn and/or improve on, the people who have become a part of my life, the sounds, the sites of sunsets and birds and horses romping, the smells, the blood, sweat and even tears of how things come and go (both sadly and joyfully) through the SAFE community is what makes the soup of it all just perfect for me. I feel privileged, humbled and indebted to the staff (and many others) who make me feel welcome each day when I step on the property. Everyone is so willing to help me grow and learn, so I can be the best possible volunteer and ambassador for SAFE.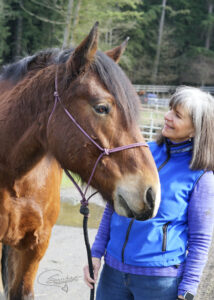 Do you have a favorite SAFE horse?
For those that know me this answer is no big surprise. My heart horse is Cramer and he probably always will be. I have never had a connection with a horse over time like I have felt with him (he might have something different to say about this 😀) I was evaluated by Terry and then asked to begin grooming Cramer when he arrived early in 2022. As Terry put it, "he needs more friends now".
In my process of learning about Cramer and how to be around him (then and even now) he has taught me about myself. He has called on me to be calmer, more confident, to listen deeply and to be present at all times in my relationship with him. As he unfolded and blossomed and moved away from his past, he helped me unfold and blossom too. Thank you so much "Goober, Big Foot, Turd Ball and Handsome Man". He has fundamentally changed me forever and I will always be grateful for the time we have had.
What do you do when you are not horsing around with us?
Is there anything to do but hang out at SAFE with the horses???
Oh yes, there in fact is. I work full time as a Family Practice Nurse Practitioner at Evergreen Hospice in Kirkland. Otherwise I crew for sailboat races out of Shilshole (when it doesn't get in the way of being at SAFE of course). I weight train and stretch regularly in hopes of avoiding injuries at SAFE hauling those wheelbarrows full of poop and bales of hay. I also started riding again in March of 2021 weekly at Western Sky Horsemanship. When I sit down in the evenings, I practice Spanish on Duolingo, pretend that I can knit and can be found binge watching shows to decompress. I also spend time with a few friends who get my weird sense of humor. And I continue to try to understand my silly and somewhat neurotic rescue cat named Pekoe who I adopted 4.5 years ago.
Do you have family or special people in your life who support your volunteer work that you would want us to mention in your write up?
I will forever be indebted to my long time friend Caitlin who told me about SAFE in 2020.
I would especially like to thank my amazing daughter Gabrielle and my Mom. Gabielle totally understands my horse hankering and will always listen to me talk about horses and admits she is envious of my time at SAFE. And I will tell her what my mother told me, "if not now, then later". My Mom, still supports me wholeheartedly from beyond the stars and is always riding sidesaddle in my heart when I am at SAFE.
And I would also like to give a big shout out to Terry, Kaya, Lily, Skye and Lexee for their eternal patience for my questions, reports of my horse citing concerns (whether real or imagined and whether they wanted to know or not 😂) and for always helping me grow in my horsemanship journey.
My heart, soul and spirit have forever been changed since becoming a volunteer at SAFE.