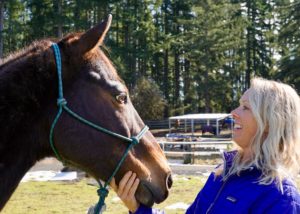 Heather Newton: Upbeat, fun, and patient Shift Lead.
"Heather is extremely upbeat, hard working and adds so much fun to our crew. She loves all of the horses. You see it in how she looks forward to taking them out, talking to them and taking time with each of them. Love having her as a co-lead!"–Leigh M.
Heather Newton is a busy mom of three small children and yet finds time to co-lead an AM chore shift here at SAFE. We have been privileged to have her with us since January of 2017, just before our move. Heather never shies away from hard, dirty work. She leads with grace and kindness, welcoming new members onto her team with congeniality. We are so fortunate she shares her passion and energy with us.
Heather is a Pacific Northwest Native, hailing from Mercer Island originally, and residing in Sammamish for the past 20 years. She says she was lucky her mom's friend had horses growing up, so she had an early introduction to the majesty of horses. She started riding when she was three years old, and continued to be around horses thanks to her friends and neighbors. Her early years put her in contact with Arabian horses, and she would travel to Arabian shows with her friend. Heather developed a love for the breed that would eventually lead her to lease one as an adult. Heather enjoyed this partnership immensely, exploring nearby trails with her horse, who she says was always up for adventure.
Heather's busy life as a mom made it hard for her to be around animals, and that eventually led her to SAFE. "I'm a huge animal lover so 2 years ago I was really having a need to volunteer with either dogs or horses and decided horse would be safer since I can't bring any home with me. I found SAFE's website and read about their mission. I brought my kids to the holiday open house at the old location in Woodinville, got the photo with Sunny and Shasta of course and was hooked. I really liked the people and the obvious professionalism of the organization." When asked what she loves about SAFE, she replied, "The horses, the energy, the smell, the sounds. I love being around other like minded people who love horses and enjoy working hard. The Wednesday AM crew is the best! The horses are so well cared for, I love being a part of it."
Heather loves all of the SAFE horses, but has a soft spot for a few of our geldings. "Honestly, my favorite horse is Valor. He's such a gentleman. He has a great attitude and sense of humor and is always welcoming in the morning. I also really like Justin, he's a sweetheart and loves attention. He comes out of his shell more every time I see him."
SAFE Barn Manager, Lori, had this to say about Heather: "She's a delight, a real asset to SAFE. She is a hard worker with a great attitude. She is always willing to help with anything we need, and more. She wants those extra tasks. She also is a good leader and has good rapport with her team. I love her!"
When she isn't being our barn buddy, Heather likes to ski and mountain bike. We are so grateful she spends her free time with us. Her dedication and care is inspiring. Thank you, Heather, we appreciate you!
Kimi Wagoner: Gentle, sweet, humble Sunday AM chore shift volunteer
Some of you may not have had the pleasure of meeting Sunday AM crew member, Kimi Wagoner. Although Kimi has been with SAFE since September of 2016, she is quiet and unassuming as she goes about her chores. Kimi is often in the background getting things done and does not enter the spotlight with flourish. Kimi is an amazing hard worker with the tenderest of hearts for all living creatures. Her shift lead Brandee had so many kind things to say about Kimi:
"She has a "great sense of humor and as you pointed out sweet and upbeat all the time, heart of gold especially when it comes to animals and never leaves the barn without making the rounds to pet/scratch/talk to all the horses first. We often tease her about all of her geese, baby birds, etc. on the property. She personally invested in those nubby gloves that scratch horse butt really well and Amelia has been her most appreciative client. Dependable and always willing to jump in and help with any activity… she focuses on doing a top notch job no matter what it is. I look forward to every Sunday just because Kimi will be there to banter and laugh with."- Brandee W.
Weekend Barn Manager, Lexee has this to say: "Kimi is such a hardworking and kind volunteer. She always does her work with a smile, and she and I both have some sass, so every shift is a good time with lots of laughs shared. Every so often she brings her grooming gloves, and the horses know when she walks up to the fence, she's got some good neck and body rubs coming for them! She always asks who I think needs some extra love, and I tell her, and as I watch from afar, I can see how happy the horses are as she reaches through the fence and gets "the spot" for each of them."
Kimi grew up in Longview and did not have opportunities to be around horses as a young person. She lives in Shoreline now, and she found SAFE online. "I searched for animal rescue organizations in Washington State and found SAFE's website. I never imagined my search would lead me to SAFE. I had zero horse experience and thought that would have been a negative aspect to volunteering, but it was the exact opposite. I'm very fortunate to work with a fabulous crew on Sunday morning. I'm grateful for Shar staying after our shift and grooming Mason while I groomed Stormy. I appreciate Brandee because from my first day at Woodinville SAFE up to now, she has taught me how to pick stalls, handle the horses, and is always willing to answer all my horse-related questions."
Kimi truly enjoys getting to know all of the horses and their funny ways. She is a close observer of their behavior and finds their good itchy spots. She has had some favorites over the years. "My first favorite horse was Stormy because she was so gentle and kind. She was very patient with me and taught me all my equine skills. When she was adopted, I formed a bond with Raven. After my shift I would spend some time giving her love and grooming her with my "Raven Gloves." She would turn one side to me and then eventually the other. She loved her butt scratched! Lately I've been grooming Amelia and attending to her itchy spots."
Kimi has her own little place with her husband and their dog, cats, chickens, and rabbits. She and her husband are avid sports fans and like to root for the Huskies and the Sounders. Kimi also likes to go to the driving range. SAFE is a kind, welcoming place, thanks, in part to Kimi. Thank you, Kimi, and congratulations on being a Volunteer of the Month.