Congratulations to Sundee Rickey, our Volunteer Retention Manager, for being SAFE's May Volunteer of the Month! Thank you for bringing your compassion and care to our SAFE family. We are better for all the ways you contribute; from barn chores, to team building, to making the Volunteer of the Month program special. You help us recognize and acknowledge the contributions of our volunteers, while working hard as a volunteer yourself. You bring us together. You keep us together. You warm our hearts with your sweetness and your smile. Thank you, Sundee!
How and when did you first get involved with horses? Horses have always been a part of my heart for as long as I can remember. Most of my childhood and teens always included horses, trail riding, competing in 4H and farm life. My aunt was a prominent horse trainer as well and involved my sister and I with her horses in the Kla Ha Ya Days parades in Snohomish, WA. I had a horse named Gypsy as a teen. She was a bay Arabian, so fast, and free spirited. Riding Gypsy was like riding with the wind, as one! You can take the girl out of the country, but you can't take the country out of the girl!
Do you have one now you want to tell us about? I first met Cameo at SAFE, she reminded me of Gypsy so I was partial to her and became her SAFEkeeper. I do not have a horse now, however, I really enjoy riding lessons with Taffy, a 26 year old quarter horse. Taffy and my riding instructor R‑A, have taught me so much! Random fence line visits with a beautiful, friendly horse I have dubbed "Gypsy Girl" every couple months currently fills my heart as well (and I think hers too).
What do you like most about volunteering at SAFE? The horse transformations and the power of healing LOVE from their human caretakers! The unified passion and vision all of the people involved with SAFE share for the health, safety and love of the horses. I feel I can truly make a positive difference in the lives of the horses and people. I really appreciate all of the growth opportunities offered and really enjoy our Tuesday AM-Giddy Up and Go Gang! We like to horse around a bit. 😉 Someone from SAFE once stated: You come for the horses.… and you stay for the people! This is so true. Horses, people, photography and nature. All of my favorite things!
Do you have a favorite SAFE horse? If so, why? Each SAFE horse has a story to tell making them all my favorites for so many different reasons. I love them all. Cameo, Valor, Mina, Moon, Millie, Cyrus and Merry to start!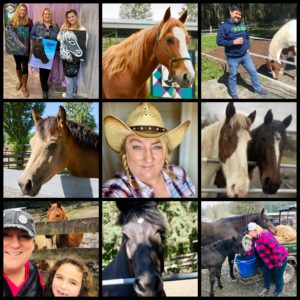 What do you do when you are not horsing around? As my friends and family can attest, I am always up for any kind of adventure. Anything involving animals/nature, photography, gardening, networking friends together for planned adventures, Airbnb travel/experiences, volunteering and as much horsing around as possible.
Do you have family or special people in your life who support your volunteer work that you would want us to mention in this write up? My mom, Betty, is the reason I am a country horse girl at heart. She is thrilled my volunteering has come full circle and brought me back to the horses again. My husband, Michael, is very supportive as well. He lets me "get my words in" about all of my horse adventures and is a great listener. My adorable 8‑year-old great niece, Rhowynn, was introduced to SAFE as a SAFEkeeper to Rae for her birthday present. Rhowynn and I have enjoyed watching Rae grow up and now share a horse love bond. Thank you to Sista Shannon, Aunt Sue, Dad and all who have been so supportive!