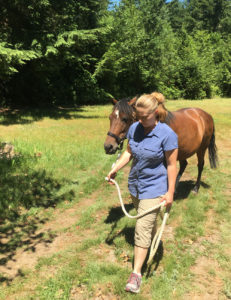 Tasara joined the SAFE herd last week. She is a petite and pretty 10 year old Paso Fino mare. She was signed over to SAFE because her owner, who loved her dearly and provided the best of care, is facing a terminal illness and is now in hospice care. Her family made a genuine effort to rehome her themselves, but were unable to find a suitable home before the sale of the property where Tasara lived.
Tasara is a perfect candidate for the SAFE training program. She is reportedly green broke, but basically needs to be restarted under saddle. She has the sweetest disposition, and will always greet you with a hello nicker. Because of her size, she'll need a petite rider. More to come once we've gotten to know her better.
Tasara is registered and we are told she is also gaited.