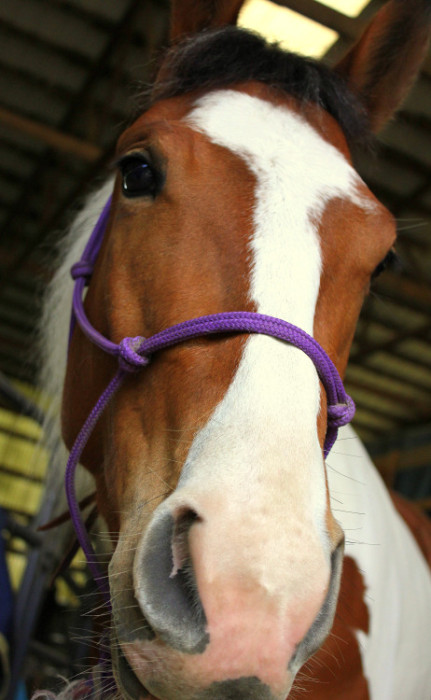 The nickering QUEEN! There is not a lot about this cute little mare's personality that won't make you fall absolutely head over heels in LOVE with her! She is the type of girl that when you come up to her stall or her turnout paddock, she will come RUNNING to greet you. She LOVES to work and while riding will actually NICKER when you praise her and pet her on the neck. Bottom line: Bridgit is a LOVE!
We have spent the last few months working to improve her balance and help her gain more awareness of her body. She needs to learn how to support and balance herself first and then the weight of a rider. She is still young and seems to be in one of those "all leg and no idea where they are underneath her" phase of her life. Hopefully she will be moving quickly through these "awkward teen" growth years but only time will tell what her abilities will be as a riding horse. We have had moments where she is able to find balance but the tripping and uncoordinated steps make her currently too unsteady for a beginner rider.
Our training plan is to help support through challenging her to focus and have more body awareness. We are using groundwork, obstacle work with ground polls and other exercises to help make her "think." We've also got her in light riding with a couple of our volunteer riders who can balance her while keeping themselves balanced and safe when she trips. She is probably one of the SWEETEST horses I have ever met! We have hopes that she will continue to progress as a riding horse and we can find her a loving forever home. She is currently available for adoption but would only make a good match for a intermediate well-balanced light-framed rider who is willing to take her on as a prospect since her long term rideability is still in question. She gets along with many different types of horses and has great ground manners and no vices.