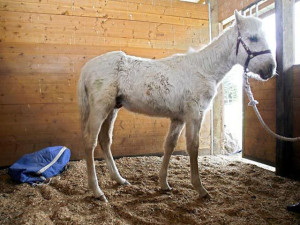 Phoenix is one of 10 horses seized from a Carnation farm, 6 of which were taken in by SAFE. Phoenix was removed from the property immediately a day prior to the seizure as Dr. Evergreen, after examining Phoenix, felt that he may not last even another 24 hours at the farm if he did not receive immediate medical attention, as he was anemic, lethargic and weak, and his body temperature was dangerously low. This little colt has a Body Condition Score of 1.5 on a scale of 1–9, and like the others, has rain rot, uncared for feet, internal parasites, and such a severe lice infestation that it appeared that his skin was moving. Phoenix was completely unhandled when seized but in his extremely weakened state was relatively easy to handle, and now leads, picks up his feet, and is very easy to handle.
Phoenix was discharged from Pilchuck Equine Hospital yesterday and came into SAFE's care, but he is far from out of the woods, as unlike Kokomo or Sinatra, he is still quite weak and depressed. He lies down for long periods of time and sometimes has trouble finding the strength to rise, and he is still having trouble maintaining a normal body temperature, and is being kept blanketed. He has less of a distended belly than Kokomo or Sinatra, so it is easier to see how truly emaciated this little colt is. His sheath has been swollen and his protein levels are still very low, likely due to the massive parasite infestation in his body. He is however, eating and passing manure normally, and greets us with a whinny at feeding time, so we are very hopeful that he will in fact, true to his name, rise from the ashes and be born anew.
Update:
Phoenix had a mostly good day today. He was up and whinnying for his food this morning and ate very well today. He even was up for a few photos today when the Times photographer came, and enjoyed his first grass time today, which he liked so much he was pretty sure he didn't want to go back in his stall. However, the day took a toll on him and by late afternoon he was lying down again looking wiped. When Dr. Hannah stopped in to visit him today, his tempature had once again dropped, this time down in the 96 range, so we have added a second blanket on him to give him more help on keeping his body temperature up. He's eating, drinking, and passing manure, but he's still quite depressed and lethargic. Please, continue thinking good thoughts for Phoenix! He is still not out of the woods.