We are preparing for Anakin's release from the hospital on Wednesday, getting his feed delivered, getting his stall ready, and preparing for transport. In the meantime, we were delighted to find out that Anakin is already giving back to the horse community! We received the following email and photos from 4‑H Equine Leader Amy Wuerch:
I am writing to share that our new equine 4‑H club, 4‑Happy Hooves, had a wonderful educational opportunity with Anakin Sunday evening. About 10 youth met with Dr. Greg Haines for an education on equine anatomy. Anakin's unfortunate condition allowed the kids to see parts of the anatomy that are not normally visible on a healthy horse.

Anakin was a gem! He loved all the attention from the kids. He was right in the middle of the crowd, greeting the kids for pets and treats for over an hour. He stood still while the kids gently pointed to various parts of his skeletal frame. He really enjoyed the human interaction.

Anakin is indeed a special horse. Thank you for what you are doing to bring him back to a life he deserves.

Amy Wuerch & Kim Meyer, 4‑H Equine Leaders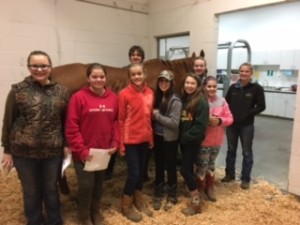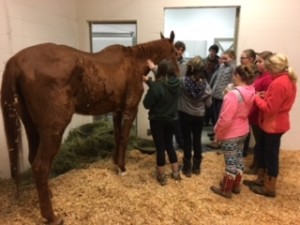 How cool is that? Thank you to 4‑Happy Hooves for sharing this neat experience with us!