Teddi
| | | | |
| --- | --- | --- | --- |
| SEX: Mare | BREED: Quarab | REGISTERED NAME: none | |
| COLOR: Sorrel | MARKINGS: Blaze, RH sock | | |
| YOB: 2012 | AGE: 9 | HEIGHT: 14.2 HH | WEIGHT: 1039 lbs |
| LOCATION: Redmond | ADOPTION FEE: $300 | Online Adoption Application | |
Teddi's Story
Teddi and her friend Roscoe were seized by Animal Control and signed over to SAFE. Both horses were malnourished and thin, with severe rainrot. Teddi appears to be an Arab cross, possibly Quarab. Teddi is very sweet, but it's clear she's been treated very roughly in the past. She has scarring on her muzzle, and her general demeanor is often a heartbreaking combination of fear and sadness. But she's a good girl who nickers for her hay, and seems open to reconsidering her views about people. All SAFE horses are adopted with a no-breeding clause, no exceptions.
Teddi Today
With kind and patient handling from SAFE Horsemanship volunteers, Teddi is building trust and has come a long way from the frightened and reactionary mare we first met. Unfortunately, she is not a candidate for riding–she has relatively advanced ringbone in her left front pastern joint–so she's offered as a companion horse at this time.
Her groundwork volunteers report Teddi is sensitive and responsive, and it's been gratifying to watch her blossom with kind, consistent interactions, including some much-loved neck massages. She is a good companion mare and enjoys the company of any mare or gelding in the herd. We will enjoy watching her grow until she finds her home.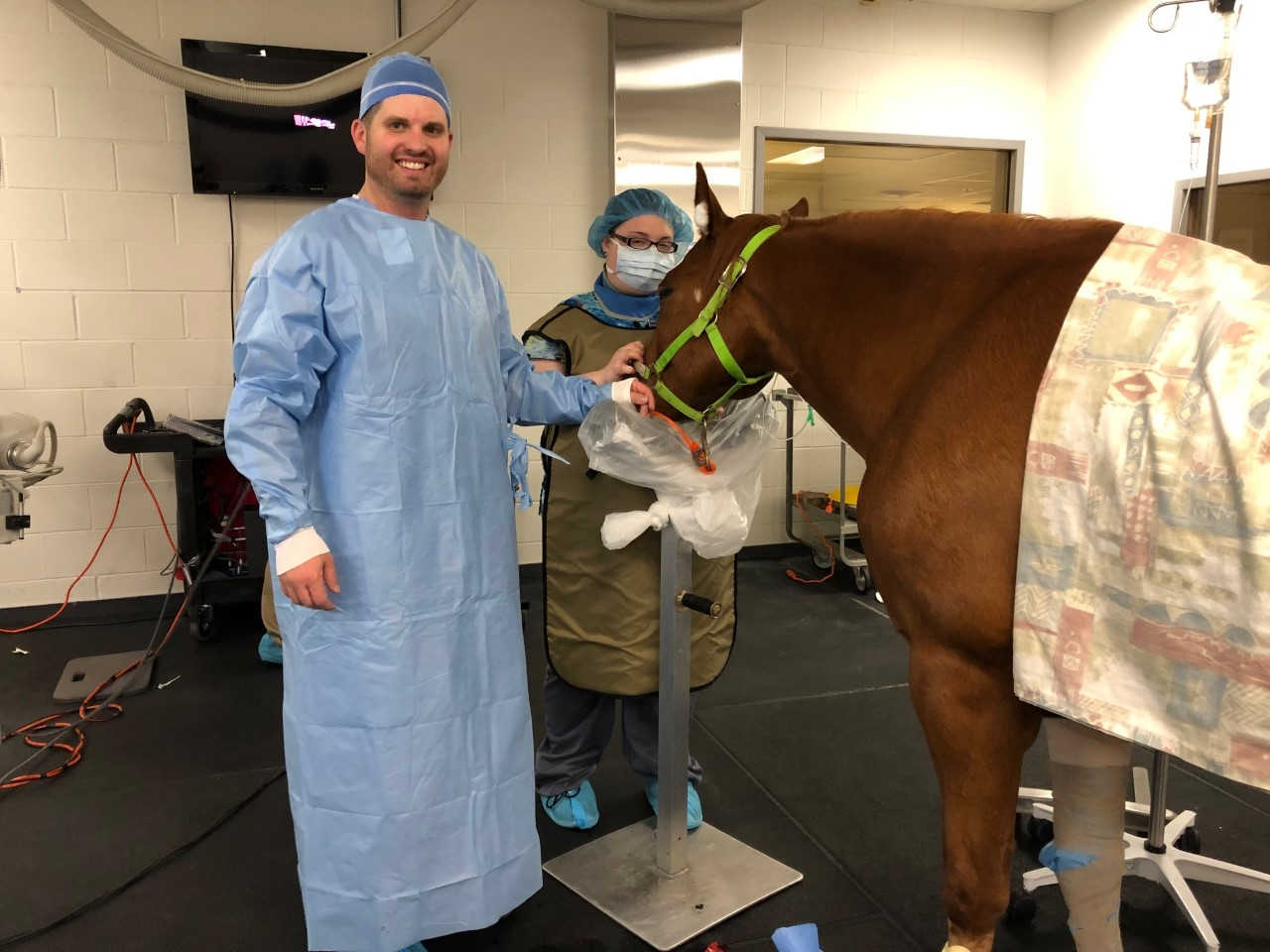 On June 10th, Teddi loaded like a pro into our horse trailer and went for a smooth 5 hour drive to Washington State University. After months of anticipation and preparation, the day had finally come to have the long-awaited surgery to fuse her pastern joint and eliminate the pain of her arthritis. Scheduling conflicts caused us to have to postpone the surgery, and she has spent the better part of a year on medication to manage the pain while we tried to work it out. The goal is for those pain meds to be a thing of the past once she's completely healed from the procedure.
We have been so impressed with Teddi during this whole adventure. She hopped off the trailer once we got to Pullman without even having broken a sweat during the long ride. She settled into her stall at the hospital like she was right at home, and she responded to the staff there as though they were old friends.
The surgery itself was fairly straightforward. Teddi now has 3 screws that will permanently stabilize the bones of her pastern joint. Dr. Kyle Heaton, a surgery resident, performed the procedure under the guidance of clinician Dr. Kelly Farnsworth. Their entire team treated Teddi with great care and compassion, and the process couldn't have gone more smoothly. Teddi will stay at the veterinary teaching hospital a few more days recovering, as they want to be sure that she's healing as she should and not developing any infection in her joint before sending her home.
Overall, the recovery process will take several months, and we won't know for a while whether or not she'll have a future career as a riding horse. But we are thrilled to have been able to give her this chance at a pain-free life with the help of a world class staff at WSU. An enormous thank you goes out to everyone who made this possible for Teddi: Dr. Farnsworth, Dr. Heaton, Dr. Fleck, the surgery staff and students at WSU, and all of the donors who funded her road to recovery.
Teddi has come so far from the timid, insecure horse we met last year. She handled all of these new experiences with ease and grace, and she's a true testament to what love and good care can do to turn around the life of a rescue horse!

Teddi's Friends:
1. Donna C.
2. Craig C.
3. Shannon N.
4. Susanne M.
5. Nancy P.
6. Keith D.
7. Lisa M.
8. Makayla C.
9. Gabrielle L.
10. Jeannie S.
11. Sherri D.
12. Elizabeth G.
13. Virginia M.
Every horse deserves at least ten friends! Even a small monthly donation can make a difference. Plus, SAFE horse sponsors receive discounts at local businesses through the SAFEkeepers program!