Teddi
| | | | |
| --- | --- | --- | --- |
| SEX: Mare | BREED: Quarab | REGISTERED NAME: none | INTAKE DATE: 1/5/18 |
| COLOR: Sorrel | MARKINGS: Blaze, RH sock | For Advanced Handler | |
| YOB: 2012 | AGE: 9 | HEIGHT: 14.2 HH | WEIGHT: 1039 lbs |
| LOCATION: Redmond | ADOPTION FEE: $300 | Online Adoption Application | |
Teddi's Story
Teddi and her friend Roscoe were seized by Animal Control and signed over to SAFE. Both horses were malnourished and thin, with severe rainrot. Teddi appears to be an Arab cross, possibly Quarab. Teddi is very sweet, but it's clear she's been treated very roughly in the past. She has scarring on her muzzle, and her general demeanor is often a heartbreaking combination of fear and sadness. But she's a good girl who nickers for her hay, and seems open to reconsidering her views about people. All SAFE horses are adopted with a no-breeding clause, no exceptions.
Teddi Today
With kind and patient handling from SAFE Horsemanship volunteers, Teddi is building trust and has come a long way from the frightened and reactionary mare we first met. Unfortunately, she is not a candidate for riding–she has relatively advanced ringbone in her left front pastern joint–so she's offered as a companion horse at this time.
Her groundwork volunteers report Teddi is sensitive and responsive, and it's been gratifying to watch her blossom with kind, consistent interactions, including some much-loved neck massages. She is a good companion mare and enjoys the company of any mare or gelding in the herd. We will enjoy watching her grow until she finds her home.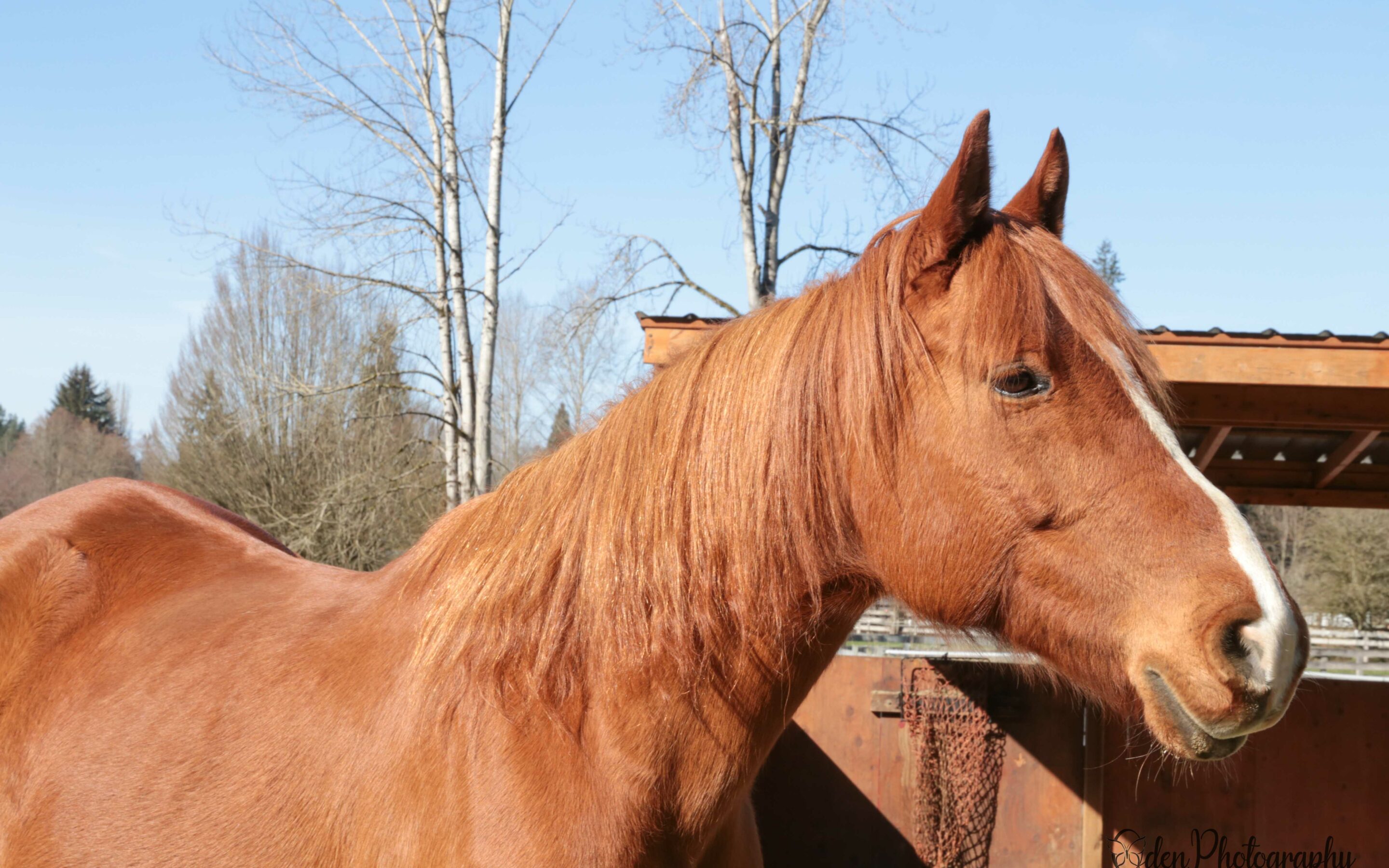 Teddi has been in our rehab paddock for over six months. We do not see her limp at a walk and are still hopeful that time may heal her pastern joint.
Right now, we are now considering Adequan to improve her long term soundness. Adequan is a supplement which has been shown to improve joint health through inflammatory reduction and joint fluid/cartilage improvement. While her pastern already has significant disease, this will be helpful for the other joints in her body that are helping to absorb the strain. Adequan is recommended to be given as a booster series every 6 months (7 injections every 4 days) in the muscle. The series of seven injections are $330. Teddi is also given Equioxx, an anti-inflammatory everyday to maintain her comfort.
She looks forward each morning to her carrot stuffed with pain medication and is attached to her stall and turnout neighbor, Kayla, an 11 year old Thoroughbred mare.

Teddi's Friends:
1. Donna C.
2. Craig C.
3. Shannon N.
4. Susanne M.
5. Nancy P.
6. Keith D.
7. Lisa M.
8. Makayla C.
9. Gabrielle L.
10. Jeannie S.
11. Sherri D.
12. Elizabeth G.
13. Virginia M.
Every horse deserves at least ten friends! Even a small monthly donation can make a difference. Plus, SAFE horse sponsors receive discounts at local businesses through the SAFEkeepers program!