Teddi
2012 chestnut QuarAb mare
Type of Rescue: Animal Control Surrender
Intake Date: 1/5/2018
Adoption Date: 3/18/2022
Length of Time with SAFE: 4 years 3 months
ADOPTED!! by Marti and John
Teddi's Story
Teddi and her friend Roscoe were seized by Animal Control and signed over to SAFE. Both horses were malnourished and thin, with severe rainrot. Teddi appears to be an Arab cross, possibly Quarab. Teddi is very sweet, but it's clear she's been treated very roughly in the past. She has scarring on her muzzle, and her general demeanor is often a heartbreaking combination of fear and sadness. But she's a good girl who nickers for her hay, and seems open to reconsidering her views about people. All SAFE horses are adopted with a no-breeding clause, no exceptions.
Teddi Today
With kind and patient handling from SAFE Horsemanship volunteers, Teddi is building trust and has come a long way from the frightened and reactionary mare we first met. Unfortunately, she is not a candidate for riding–she has relatively advanced ringbone in her left front pastern joint–so she's offered as a companion horse at this time.
Her groundwork volunteers report Teddi is sensitive and responsive, and it's been gratifying to watch her blossom with kind, consistent interactions, including some much-loved neck massages. She is a good companion mare and enjoys the company of any mare or gelding in the herd. We will enjoy watching her grow until she finds her home.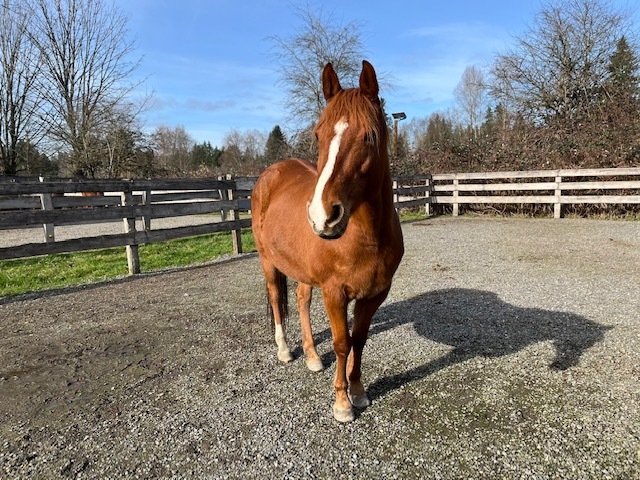 Recently, Teddi reminded us what an amazing herd member she can be! Since Minnie and Coco had to have their vaccines done to help them protect against strangles, we were instructed to keep them separated for one-week post-vaccine from other horses. Since it is winter, we don't have any open paddocks, Teddi had to go back in the "filly field" with a few old friends, Rae, and a few new friends, Arigato, Echo and Freya. Without one step in the wrong direction, Teddi seamlessly melded into this new herd. She is an angel and a good reminder to us that proper social skills are a tremendous bonus on this girl's long list of ideal qualities. Thank you, Teddi, for once again making our lives easy and going with the flow. You are a doll! After a week vacation from the kids, Auntie Teddi was reunited with her little ones and all are thrilled to be back together again.