Most of the rescue work that SAFE does is fairly straightforward. A horse, facing neglect or abuse, is taken in, rehabilitated and retrained, then we find it a new home. The circumstances of neglect may vary, but the basic storyline is the same.
In 2018, we found ourselves changing the script in two unusual situations. The Mayday Horses rescue effort was one such case. It involved a group of 21 neglected horses, abandoned on a foreclosed property with a three week window in which to move. SAFE coordinated this emergency herd dispersal. With no time to get to know the horses well or check out potential adopters, this situation called for us to make decisions very differently from our normal way of doing things. But we did our best and all the horses received needed vet care and were safely removed from the property before the deadline. We keep tabs on these horses, and they continue to do well in their new lives.
In July 2018, we found ourselves in another unusual situation. We were contacted by a gentleman who had lost his wife to cancer, leaving him caring for her horse, a 13 year old Section D‑type Welsh Cob gelding, trained in dressage. He was concerned about the future safety of the horse if he sold it, and wondered if SAFE could help. As luck would have it, we knew a responsible and trusted horse owner who was looking for a Welsh Cob. From our conversations, it sounded like the horse needed a little bit of a tuneup under saddle, so we agreed that we would intake the horse, send him straight to training, then adopt him out under contract with SAFE to ensure a lifelong safety net. The owner's husband made a generous donation to cover the horse's costs. A winning situation for everyone involved.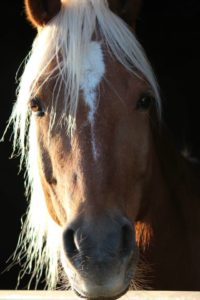 And in the end, that's exactly what happened. The road to getting there was bumpy, because the horse, Timmie, needed a little more than just a tuneup. He was a BIG boy and he knew how to walk all over people. When we went to pick up him up, we could not load him into the trailer, and ended up calling our friend Ben Hannah to drive an hour and a half to come work with him. We quickly realized that this was not going to be the slam-dunk placement that we had envisioned, and that Timmie was going to require a lot more work than we thought. This changed nothing in terms of the intake agreement we made with his previous owners. We'd made a commitment and we would see it through.
Timmie went straight to Ben's farm to begin his retraining, and remained with him for four months. Nothing about working with Timmie was easy. He would bite, kick, buck, and act out. And he was big, so these were serious issues!
But as it turned out, this would become a profound experience for Ben, who shared these thoughts about what he and Timmie went through together:
I'd like to start with some personal transparency. 25 years ago, this horse would have fit into my "Punk" category.

I was raised with the idea that horses should let you catch, brush, blanket, saddle, ride, and haul them; anywhere, anytime, anyplace, and always on your terms. PERIOD. They should behave themselves and be respectful of you regardless of the circumstances you put them in. They should have a willingness to do anything you desire, whatever that may be, and if they didn't, you would find a way to make them. The solutions were not abusive…but they weren't always kind, and honestly had nothing to do with horses! Looking back, I feel bad for the way I would speak and treat horses we would get like Timmie. He was just a "Punk". A polite conversational choice for the general horse public's listening ear. Outside of earshot, he was referred to as other things.

What I've learned today is I was wrong. My mentors were wrong. We are wrong in so many things we asked horses to do. They can do it all right… but the way we present it is far from fitting to the horse. Some of them can fill in and find a way to make the humans' ideas work despite the ignorance, and some just cannot. Timmie is a text book Horse Industry Cannot. The symptoms of his solutions are what is leftover for whoever puts their halter on him.

Thanks to Tom Dorrance, Timmie is going to make it with humans! There are many undesirable things he does such as biting and kicking when he doesn't understand what is being asked of him but that's the beauty of core issues. When it comes to the horse, the core issue is always rooted in not understanding. 13 years of not understanding what the human wanted led him to make his own solutions and protect himself. As time goes on and his education increases through this style of Horsemanship, those symptoms are beginning to decrease day by day. It's been so much fun and such a pleasure to offer an animal as big and powerful as Timmie a new perspective on human beings. From saddling to brushing, riding and being hauled in a trailer, his reactions are progressively more and more positive. I look forward to more days with him in my string and a bright future for his relationship with the human. I'm grateful for the lessons he has taught me about who he is and my responsibility to adjust to him in a way that fits his needs.

In closing, and with much gratitude for Timmie, I'm reminded of a Ray Hunt quote I once read:

"Remember, it was you who got into his life, not the other way around."
— Ray Hunt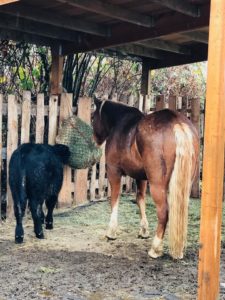 Timmie is home now, and he's a completely different horse than the one we met last August. He belongs to the adopter we had earmarked for him on Day 1, and she is just over the moon with this horse. He shares space with some illustrious SAFE alumni, including Anakin and Strider, and he's a very happy and well mannered horse. He's been ridden in a couple horsemanship clinics, including one of the Joel Conner clinics at SAFE, and he's been a star.
Timmie's story has a happy ending, but it brings up an issue that many horse owners are reluctant to face: what happens to our horse(s) if we pass away unexpectedly? We've been involved with several horses that suddenly became ownerless due to death or disability. There are usually family members involved but often they have no idea how to care for a horse or find a safe home. It's important that pet owners have a plan in place and make that plan available to their survivors.