Announcing Gizela Berreth as the September Volunteer of the Month! SAFE is lucky to have Gizela's cheerful and positive attitude. She is always ready to help with anything we need, even inclement weather, she does it with a smile. Gizela is currently on the Sunday PM team, along with her daughter, and also does Night Check on Monday nights. Get to know a little more about Gizela below.
How and when did you first get involved with horses?
Many years ago, I attended an orientation regarding volunteer opportunities at Little Bit Therapeutic Riding Center. It didn't take very long for me to want to learn how to do ground work and ride a horse. I had some amazing life experiences with the horses at Tashunka, and when I noticed, I was also volunteering at SAFE where I became fascinated about the process of helping and training horses.
What do you like most about volunteering with SAFE?
I really like SAFE empowering culture that enables the horses to find their true potential. The horses at SAFE are no longer victims from their past circumstances and they learn to grow into trust, confidence and greatness. There is a huge team of professionals and volunteers who directly and indirectly help those horses. Everyone there is very dedicated and passionate about what they do. Overall, there is such a positive environment and a lot of work to do. Ultimately, what really touches my heart is to see the horse's transformation!!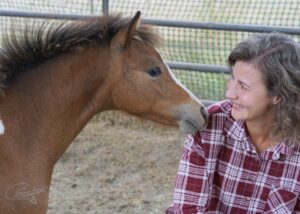 Do you have a favorite SAFE horse? If so, why?
I absolutely do and her name is Coco!! She is such a joy! I was really happy to hear that Sundae was pregnant. Coco represented the good news and renewal of life. She was a good reminder that life goes on and it can be full of good surprises.
What do you do when you are not horsing around with us?
I spend time with my family, go to school and the gym. I also like to go camping, hiking and swimming at the lake when possible.
Do you have family or special people in your life who support your volunteer work that you would want us to mention in your write up?
I am grateful for my family who really supports my volunteer work and desire to continue to grow and learn more about horses. I am especially thankful for those who patiently allowed me to either have lessons, watch them working with horses or simply answered my questions. I consider them part of my extended family because there is so much love and passion when it comes to truly understanding horses and interacting with them. The special people include: R‑A, Terry Phelps, Dylan Pal, Kaya Mead, Joel Conner, Jolene Ducan, Evan Bonner, Buck Brannaman.… I know there is so much to learn and I couldn't do without them!!