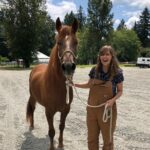 Skye Guidotti has loved horses since she before she had memories. Her parents told her it was a pony ride from her grandparents' neighbor that started the obsession. Luckily her grandparents had easy, kid-friendly horses all through her youth. She grew up riding and building forts with her sister on their 100+ acre property in Eastern Oregon. Her grandpa even cornered her parents into buying her a horse when she was 15.
Skye moved to Seattle where she studied Visual Art at the University of Washington and then went on to get a certificate in Fashion Design. When her grandfather passed recently, Skye was thinking about her magical childhood filled with horses and wanted to bring horses back into her life. Then one day she was at a restaurant that donated a percentage of its profits to an animal rescue each month. It was SAFE. She applied to be a barn chore volunteer and started on the Monday AM team in January 2017. She is so thankful at how much she learned about horses through her time at SAFE. Skye hopes to one day be able to adopt a few horses, because you can't just have one, they need a friend!
Skye still lives in Seattle with her husband, Matt, and her recently rescued pittie, Yogi.