Skye will soon be making the move to her next phase of training, when she heads up to Half Trak Farm to start work with Andrea. She's spent the past three months at Lake Tapps Equestrian Center, where Team Zanotelli was able to use the covered arena to continue her training. In January, Skye was cared for by long time SAFE supporter, Lynn Mazer, and her sister Carol, who gave her the attention she needed, and both of them fell in love with her. I asked them to share their experiences with us so we could get to know Skye even better:
My sister, Carol, and I played and worked with Skye 5–6 days a week. We groomed and loved on her, and took her through obstacles, started on lunging and surcingle work, and even began some trailer desensitizing. Skye is a big girl but she still had a fear of smaller spaces, a lack of trust and confidence in trying new things, and she could be quite intimidating sometimes. But, she improved so much in the month we were able to work with her. She began to walk and stand quietly and not try to take up the same space as the person on the end of the lead rope. She was calm when we entered her stall to talk with her and move her in and out without a fuss, even when she had food in front of her. The stall cleaner and the barn owner and her daughter told us how much calmer and more relaxed she was. I couldn't have been more proud of her. I wish that we'd had more time and I really wish I could afford a second horse. She is a gem.
I know that with time and care, she is going to be a very loving and outstanding partner in whatever she takes on. I can't wait to see how the next chapter in her life plays out. ~ Lynn Mazer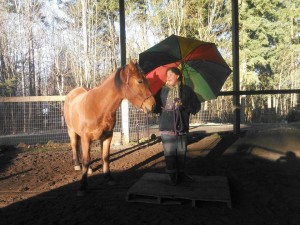 I had the opportunity to learn with Skye. I was filled with nerves as I had only started learning to train horses in the summer. Skye is a big loving girl, and she needed so much. So many things spooked her, and helping her learn that Lynn and I were not going to let any of the scary umbrellas , tires or barrels eat her was a great experience. Also letting her know that she was loved by grooming her almost every day. She came from not letting me pick up and clean her feet to many times lifting them with just a tap and the word lift. At first her size was intimidating but at the end of the 6 short weeks she had calmed down so much that it didn't faze me anymore.
Skye is going to make someone a wonderful horse friend. I only wish I had the money it takes to keep her and see her all the way through the rest of her life. Love her and cherish her whoever you are that has the great fortune to adopt this most amazing horse. ~ Carol Mazer
Thank you, Lynn and Carol, for all that you've done for our girl. I know you'll be proud of her as she continues her education and moves even closer to finding her forever home.