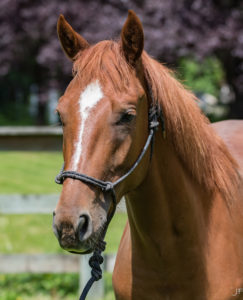 Sophie is doing wonderfully in her training and preparation to be started under saddle. Volunteers have been introducing her to tack and doing groundwork with her so she'll be ready to start training with Joel Conner in August. She has been a doll for everything and we expect that it will be a very easy start since she is so level headed and accepting of new things.
Sophie had a photo shoot with Jessica Farren last week. She's a stunning young mare and growing like a weed! We expect her to mature at over 15 hands and fill out to be a good sized riding horse. We are exited to see where the future takes this girl and to see her working under saddle the arena soon!
SEE SOPHIE IN ACTION at the 2016 SAFE Benefit Horse Show, July 30–31, 2016, at Meadow Wood Equestrian Center in Snohomish. Click here for details about the show!