Maintaining the facility here at SAFE is a big responsibility. We have an amazing Facilities Team that works hard to create a healthy, safe environment for the horses and people of SAFE. Sometimes they receive assistance from generous members of the community, looking to use their skills and resources to benefit our nonprofit. We would like to thank two such individuals: John Hansen and Derek Lapp.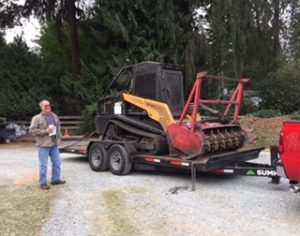 In 2017, John Hansen of NW Land Management donated his services and cleared acres of blackberry bushes and overgrowth so we could reclaim the land. John came to our aid again in 2018 to create a gravel road leading out to the mares' paddock, keeping our volunteers and horses from having to walk through deep mud on their way to turnout. John is a master of heavy equipment and he generously supports our mission. Thank you, John, for helping us with the heavy lifting!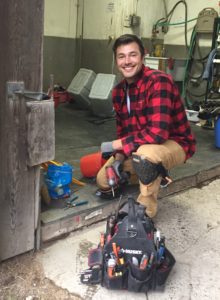 Derek Lapp is a professional electrician who was introduced to SAFE through friends. Derek used his skills to install new lights in many locations across the property to help keep us safe, especially during the dark winter months. Additionally, he installed a new exterior outlet so we could heat-wrap our water main to prevent freezing. Without his help, we would quite literally be in the dark. Thank you, Derek, for using your talents to help SAFE!