We want to recognize and thank a very special member of both our Operations Council and our Volunteer Riders, Jolene Duncan. For the past 3 years, Jolene has given her time, energy, and talents to helping in a multitude of facets at SAFE. Starting out as a Volunteer Rider, Jolene helped train, start, and ride many of our horses. Her time and effort helped prepare horses for their future lives and helped make their successful adoptions possible.
While being a Volunteer Rider is something done more in the community's eye, Jolene's other role as SAFE's Intake/Outreach Manager was more behind‐the‐scenes work. In many ways, our Community Outreach Program is the most difficult work we do. We hear about horses in dire situations and talk to their families, many of whom are dealing with medical or financial stresses of their own. As SAFE's Intake/Outreach Manager, Jolene spent many hours speaking with and counseling horse owners on their options. In many cases, she had to try to convince them to step up and meet us halfway by taking responsibility for their animals. It's tireless work, because as soon as one case closes, another one is starting. SAFE receives multiple phone calls and emails weekly asking for our assistance, and Jolene has been the one taking in all those calls, gathering information from the owners, and relaying that to the committee for deliberation.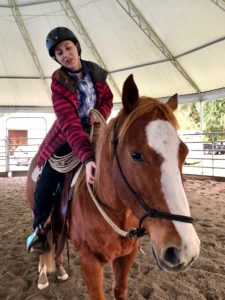 There is no way SAFE can help all the requests. When we do not have the space in our herd, we rely on our Community Outreach Program to help support these horses while their owners get through the crisis or find the horse a new home. A key component of Jolene's role was to bring to the committee a clear idea of each case, act as the go between for the horse owner and SAFE, and assist in the execution of our Community Outreach goals.
Jolene has made the difficult decision to step down from her work at SAFE to pursue other goals in her personal life. It is hard for us to let such an important and well qualified member of our team go, but we understand her need to take a break from this difficult work. We will miss her contributions to our Operations Council but are very grateful for the amazing things we were able to accomplish together. SAFE is very glad that Nicole Brandenburg has offered to step back into this role once again.