Since our move to SAFE Harbor Stables back in July of 2012, life hasn't been entirely easy for our friend Strider. For several months after the move, the burned area on his back still needed to be protected from sun and rain, so he lived in a covered enclosure next to the indoor arena, which was good for his healing process but hard because he had no nearby neighbors to socialize with up close. When we were able to move him into the main barn, he immediately became much happier with friends on either side of him and lots of activity around him, but living in a stall with an attached gravel run proved to be a little small for a horse his size. Strider developed recurring leg & hoof problems, including pressure sores, proud flesh, abscesses, stocking up, and even a small bout of cellulitis. His daily routine at one point included unwrapping, debriding, cold hosing, scrubbing, rinsing, treating with ointment, and wrapping all four legs. And through we've done our best to get him exercise and turnout, it just wasn't enough to keep his legs working properly.
SAFE Harbor Stables is a wonderful facility for us, and we love being in the heart of Woodinville, surrounded by our super supportive neighbors. We love the barns and the arenas. But what SAFE Harbor lacks is pasture space — there is some, but the horses each only get a few hours per day to be out on grass in the summer time. And for a horse the size of Strider, it's difficult on his body to be on limited turnout. So we've been hoping and praying for a foster home or adopter to come along and offer this big guy a better living situation that what we're currently able to provide. And we are so happy to announce that our prayers were answered.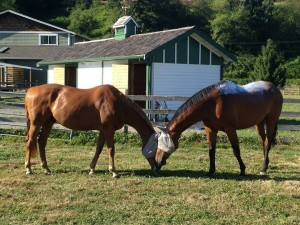 Our good friend and long-time supporter, Sheridan Jones (recently seen on this KOMO news story about her SAFE horse Corona) has a nice horse property in Monroe where she keeps her two horses, Corona and Austin. But Corona is headed off on the Hunter/Jumper show circuit this summer, meaning that Austin was going to be occupying his big grass pasture all alone. So when Sheridan heard about Strider's needs, she immediately offered to let us keep him at her place for at least the rest of the summer. Sheridan picked Strider up on Monday and he's spent the week side by side with Austin, enjoying the grass and sunshine. The two big geldings get along great. "They are ADORABLE with each other," Sheridan reports, "and Austin is so happy to have a friend. He and Strider seem perfectly suited for each other. They were happily sharing a slow feeder last night, and Austin NEVER shares food. I think they respect each others' size, and are probably sharing scary fire stories too."
Sheridan's comment about "fire stories" refers to the fact that she and Austin and Corona also had a brush with danger when their barn caught fire and burned to the ground last year. Fortunately for Sheridan, she was able to get the horses out safely just as the fire was started, but it was still a traumatic experience for everyone, as you might expect. Sheridan says she has felt a connection with Strider ever since the fire, and has followed his story closely. It's something that she and the big horse have in common, and who knows, maybe they can help each other continue to heal and grow from their shared experiences.
Strider will be able to stay with Sheridan and Austin at least until the end of the summer. Once wet weather arrives, Sheridan's pastures may not be able to sustain the two horses, and at this point she doesn't know if her barn will be rebuilt in time for winter or not. But at the very least, Strider is living the life that we've dreamed of for him, grass to eat and lie down in, sunshine, and a good friend. The happiest update we could share would be that Strider was adopted into the perfect home, and we know that someday that will happen. This is the second happiest update, and it's a pretty incredibly happy one! Thank you to Sheridan and Austin for opening your hearts and home for the magnificent Strider!