Meghan N has been working with Tanis over the last several months, participating in two Joel Conner clinics alongside her, and has the following to say about this sweet mare:
"Tanis is a big hearted mare with a whole lotta try! She has been busy since coming to SAFE earlier this year; and this past weekend participated in her third Joel Conner clinic. Leading up to the clinic, Tanis worked so hard with a flag and small tarp, which helped her to move through any fear of the sounds, movement and feel of a rain sheet. For the first time, she was and blanketed, and now it's just a normal part of her day to have the rain sheet taken on/off!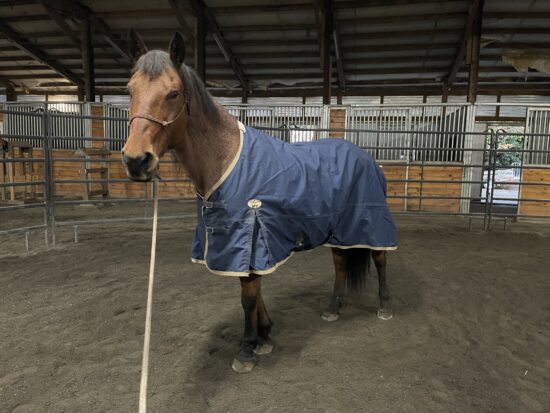 The clinic was a lot of work, but worth every second! While Tanis would love to snuggle and get lots love and pets, she is finding confidence, peace and freedom within herself as she continues to learn balance and trust in her ability to be free in her feet. This mare really appreciates clear communication and gentle confidence at the end of the lead rope. Tanis worked hard on some braces she held when practicing hind quarters, and is working on a more smooth front quarters. As her feet and hind become more free, she is becoming more confident in her backup. While this clinic had many big moments for us, one that really stood out was how 'with me' Tanis wanted to be! She tries hard to feel and be with you, and it really showed as we practiced leading from a walk to trot, with random stopping and backing up, at all speeds.
This mare is so smart, she really wants to learn and enjoys how good it feels to be able to freely move, leaving any fear and doubt she use to hold in her past. By the end of the three day clinic, she was calm, confident and truly with me. She enjoyed lots of extra face pets (her FAVORITE thing), and is now having a well-deserved few days off. Tanis is going to fill some lucky families hearts with so much love and joy; I'm so excited for what her future holds!"