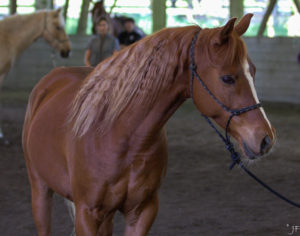 Anderson is one BIG love bug! If he could, I believe he would come into the house and snuggle up on the couch with me. This big puppy has a giant heart. It's been a joy to be around him during his journey to becoming a riding horse.
He has a very smart and strong personality but he is also very young in both his actions and emotions. I don't think he has a mean bone in his body. He is inquisitive about new things and very much wants to be your friend; however, he has some confusion where the line is between buddy and riding partner. So we are working on that.
Once he learns something, he is eager to show you what he knows. He is a little bit of an overachiever with a side of show off and goofball! I crack up every time I ask him to "pick me up" on the fence, because he quickly gets into position, lines up on the wall, and comes as close as he can so I can get on without any problem. He is very pleased with himself during the whole process and it is very endearing to watch.
He is very steady for mounting and dismounting either off the fence, mounting block, or from the ground. He has a pretty good stop and is learning that forward is the answer. He loves long grooming sessions and any activity that means I'll be staying close and interacting with him.
He is great at trailer loading, standing for the farrier and being led in and out of turnout. He is easy to catch when he's out in the large grass field. We still have not turned him out with other horses, mostly because all of the geldings here at SHS right now were late cut stallions who would want to assert too much dominance towards each other. He is a sweetheart over the fence with mares; in fact he's stabled right between two mares without any issues.
I took him into the Joel Conner clinic a few weeks ago and he was great. We were in the morning groundwork sessions and Joel rode him over the lunch hour each day. Since the clinic, I've been riding him in the round pen and things are going well. I also took him out on a trail ride with four other SAFE horses and he was a very good boy.
Anderson is still extremely green and would only be suitable for a professional rider or someone with a lot of experience with young horses. He also needs an adopter who has a good understanding of the Arabian temperament. We will continue to work on his training here at Safe Harbor and hope to see some adoption applications come in on him soon. He has a ton of potential to offer to a skilled rider looking for a partner to enjoy for years to come.