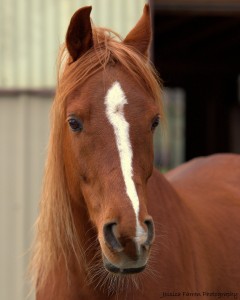 Anderson made his way home from training a few weeks ago. It has been a lot of fun getting to know his personality and to start riding him. I have 100% confidence getting on him. With unfamiliar horses you don't always know how they are going to react to a new rider, but Anderson was honest and not at all afraid or unsure about having me climb aboard.
While he is still a little leery about things being put on his back—like saddles or blankets—once they are in place, he quickly accepts them. He is gentle and very sweet! A few volunteers have have even described him as "cuddly" — which is a far cry from the horse we first met last summer! He is getting used to having a bit in his mouth and doesn't have any major objections to it. He is well behaved around other horses in the arena, including mares…although he does show a little interest in them from time to time. But that usually means that he would rather go to wherever they are in the arena then stay on the circle we are working.
I had the opportunity to take him in the morning sessions for groundwork with Joel Conner when he was here in December. Anderson was fantastic! He was attentive to me even with up to 11 other horses in the arena. I was amazed at how intelligent he is and how quickly he picks up new things. He also had his first trimming session with our new farrier David Barron. David was kind and took his time to get to know him. He was good for the trim and everything went well.
I am enjoying our time together and excited to start showing him to potential adopters. Anderson is suitable for an intermediate to advanced rider who is comfortable with green horses and willing to keep this horse in training. With the right instruction, he could do just about any discipline. He got a little a bit of trail riding time while he was with Darik. Anderson is a genuinely nice gelding that will make some person a very lucky owner.
Please submit applications online or email adopt@safehorses.org with questions.