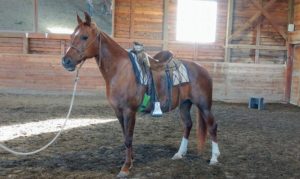 We have seen a great transformation in Harley over the weeks she has been with SAFE. She is up to a good weight, her rain rot is cleared up, her hooves are trimmed, and she is sound.
Since we don't have a lot of information about what she had done in the past, we asked Joel Conner to help us assess her as a riding horse. We took her over to his place in Ellensburg last Monday. She did AMAZING! Jumped into the trailer and was quiet and settled into her paddock easily. Joel checked her out and while it was clear it had been a while since she's been ridden, she was accepting and very well behaved. We decided to leave her at Joel's for a few weeks to continue working with her and see what else she knows.
From what she has shown us so far, she is going to be an easy horse to get along with and hopefully easy to place. She will be back at Safe Harbor for the Joel Conner Clinic June 10–11th. We are taking applications now and setting up times to meet her the week of June 12th. Please fill out an application or email adopt@safehorses.org with any questions.