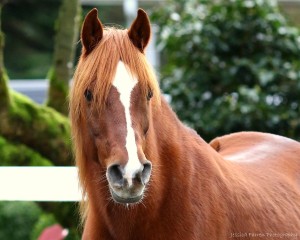 Sometimes you meet a horse and say, wow, now that's my kind of horse! Mesquite has had my heart from the beginning. Once I rode him, I was done for! He is an amazing horse! He is kind, gentle, intelligent and fun. Plus, he has three smooth gates. Oh, and did I mention, he's also quite HANDSOME! Between you, me, and Mesquite, somebody better adopt this boy soon or I might have to do it myself!
Joel Connor did a fantastic job starting this boy for SAFE. He has solid walk, trot and canter. He trailers well, calmly stands for the farrier and vet, hauls like a dream, ties easily, and has no stable vices. He is still considered green broke but I think he would be fine for an intermediate rider with a trainer, or a professional, looking for a new mount.
I took him to our Joel Conner clinic last month and he did really well. We had as many as eleven other horses in the arena and he was not bothered at all with the activity or commotion. He was easy to maneuver around in the crowd and he paid attention to me. He was also a ton of fun to work with when we did the horsemanship exercises.
I would love to continue to ride this fabulous horse, but I know his forever home is out there looking for him. Please submit applications online for Mesquite or email questions to adopt@safehorses.org.