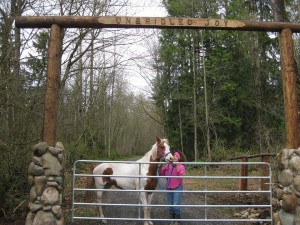 Sara, who is SAFE's Vice President and Adoption Manager, keeps in touch with many of our adopters through Facebook, and a few days ago, she saw this lovely photo, posted by Karen who adopted Zanadu from us. When Sara asked Karen about it, she received this beautiful explanation:
"The name Unbridled Joy is actually the working title of a book I have been writing – I started about two years ago. The full title is UNBRIDLED JOY: A life of love, loss and horses. It's a journal about joy, how I had it, lost it, found it, what gives me joy, horses and some wonky adventures in my life along the way.
The title came to me as I was trying to articulate in my mind how I would try to live my life again after losing my beautiful, brave daughter Heather when she was just one month shy of 36 years old in 2011. She lived her entire life in a wheelchair as a result of birth injuries and was never able to ride horses. I personally believe with all my heart that my angel girl Heather whispered in God's ear that her Mom could reclaim that joy with a best horse friend. So Heather rides with me now.
It is fitting that the beautiful spot in Eagle Ridge where Zanadu and Raffy now share their forever home with us be called Unbridled Joy. Our neighbor, Bruce Aalmo, constructed the entry from my design with rocks we collected from our land.
Sara, always so grateful to you and SAFE for making me Zan's forever Mom."
This is all we want for any of our horses: the chance to bring someone unbridled joy. Thank you, Karen, for giving Zanadu that opportunity.
Don't postpone happiness: we have many lovely horses waiting to share your life. Click here to see them all.