What a change Veronica has made in the last few months! She has gone from not wanting to be touched to greeting us at the fence with a nicker and inquisitive eyes.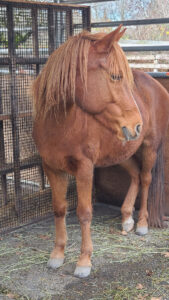 Over the summer Dylan has spent time with this sweet mare to be able to gain her trust to groom and begin haltering her. SAFE volunteer Candi was able to spend quite a bit of time getting her accustomed to being brushed and having her beautiful mane untangled. Over time she began to realize that this felt good and she would stand in place and enjoy the spa treatment.
Last week we moved Veronica and Caramel into new turnouts where they share a round pen in between their panels to further their training. Veronica is working on entering the round pen and is getting better at it each day. She moves around beautifully and Dylan has been roping her with ease. Not only has he roped her for halter work he has also done work with all 4 feet to prepare her for the farrier.
Veronica is making great progress with haltering. The first haltering of the day can be a little challenging, but once her halter is on, she will let it be taken off and put back on again repeatedly. Candi has spent a lot of time rubbing her head, ears, and neck to reassure her. She will now rest her head in Candi's hands and stand still.
She hooks on easily and is learning to walk alongside and backup. She'll be learning hindquarters and front quarters soon. This beautiful girl definitely has a bright future. She is smart, and she wants to learn and to please.