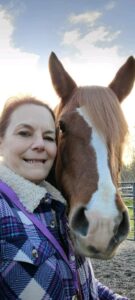 SAFE volunteer Candi K. has taken Veronica under her wing and has been consistently working with her for the past few months. Candi's patient gentling work was exactly what Veronica needed. It's moving to see Veronica opening up to human contact. Together they are creating a foundation that will be an enormous part of Veronica's future success as a domesticated horse.
Candi wrote this very thoughtful article about Veronica's progress:
Remember the excitement of learning something new and how it opened a whole new world of possibilities for you? Now imagine that as a horse. Imagine how freeing your life will become as you can navigate your days more confidently. Veronica is now successfully halter broken and will stand quiet and still to be groomed. She has the most gorgeous thick tail and much to her delight, she has figured out that it feels really good to have it brushed out.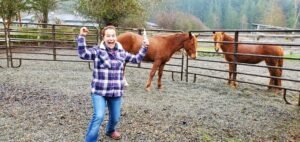 In the last couple of weeks, she has learned how to walk and stop alongside me as I lead her. She has become a champ at unified circles to the left. Her right eye is her non-dominant eye so she feels less confident on circling to the right. Slowly but surely, she is taking more strides in that direction. We have been practicing approaching the gate of the round pen, opening and closing it while she is haltered and in hand. She is waits patiently and enters and exits without any issues.
Last week we had great success worming her for the first time. She spent several days learning about a syringe and the yummy applesauce that comes out of it. She was happy to take the worming medication and only stuck her tongue out at the end to let us know it tasted a little funny.
Veronica is also getting used to having the lead line touch her all over her body. At first, she was very jumpy and unsure. She is getting more accustomed to it now. This will help as we progress further into her training and future saddling.
Veronica is very loving and eager to learn. Her movement at a trot looks like she is floating on air. She is truly a beautiful mare with a bright future.