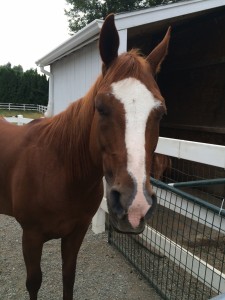 There's a new face at Safe Harbor Stables, but it belongs to a horse that first came to SAFE way back in 2010. She was a 1997 registered Quarter Horse mare named Peppy Skippa Jewel, but we just called her Scarlett. She was originally signed over to SAFE by Animal Control, and we were able to quickly rehabilitate her and find her an adoptive home. Fast forward three and half years. SAFE is contacted by Scarlett's adopter who due to health reasons is going to need to rehome her. We're always pretty heartbroken to hear that a SAFE horse is being moved on to a new home, but rehoming is allowable under the SAFE Adoption Contract, provided that the new owner meets SAFE's standards of care and housing and is willing to sign our Adoption Contract themselves.
To make a very long story short, Scarlett was rehomed by her adopter under those terms. Subsequently and through no fault of her own, she was rehomed two more times in rapid succession. For Scarlett, the third time WAS the charm, and she became part of a family in which she was loved, valued, and well taken care of. Scarlett's days of upheaval and change were over, and she was home.
Unfortunately, after a year in her new home, we were contacted and told that Scarlett was going to need to be rehomed yet again. This time, we felt we owed it to Scarlett to bring her back into SAFE and give her a fresh start. At this point it seemed to us that Scarlett was three times removed from the person who originally signed her adoption contract, and although each subsequent owner had also signed our contract, it didn't feel like the contract was adequately protecting this mare anymore. Yes, we are all about Owner Responsibility and we set those expectations in place before we send a horse off to a new home. But sometimes you just have to do what's right for the horse, and bringing Scarlett home felt right.
So Scarlett was delivered to Safe Harbor this past weekend, and we began the process of getting her know her again. Truthfully there aren't too many volunteers at SAFE who were around the first time Scarlett was a SAFE Horse, so for a lot of us, she is a new friend. Scarlett was able to participate in last weekend's clinic with Michael Sparling, doing in hand work with Terry. She did well in the clinic, showing a willingness to learn that was quite encouraging. We'll be reviewing vet records and looking into her soundness and suitability over the next few days, and once we know what we've got, we can start making plans for Scarlett's new future.