We've been caring for Logan for several months now, and we've come to the sad conclusion that this sweet horse has suffered some lingering and likely permanent ill effects from the abuse and neglect he faced in his previous life. Before being seized by Pierce County Animal Control, Logan and his friends were confined for long periods of time in filthy stalls piled high with manure. As a result, Logan is very weak in the hind end, and we are afraid that he might not ever be able to be ridden safely. We don't know if he was ever started under saddle, and it doesn't seem to make sense to start him or restart him at this age and in this condition. We are also concerned that the rectal tumor that we had removed after he was rescued may be starting to regrow.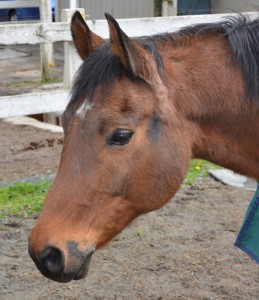 Having given it a great deal of thought, we'd like to see Logan have the chance to spend some time living in a pasture, grazing and enjoying himself. He was deprived of that sort of life by his prior owner, and it's very sad. He's a sweet, handsome fellow who gets along well with other horses, especially with his buddy, Sinatra. He has good days where he seems happy and energetic to a point, but sometimes we see him standing by himself with a far-off look in his eyes. And we worry about him, and want him to be able to enjoy life, even just a little, before it's too late for him.
There must be someone out there with horse property who could give Logan a good home and a chance to enjoy the things that all horses deserve: green grass, sunshine, hay and grain to eat? Someone who can love him and groom him and feed him carrots? Someone who understands that all horses have something to give, even if they can't carry you on their back? Logan's basic needs are being well taken care of at SAFE, but there's one thing we can't give him without your help, and that is a home of his own. A person to belong to. Owning a sweet, older horse like Logan has so many rewards, and he won't ask for much in return. He deserves to be important to someone. He deserves to be loved. He deserves a home of his own. Can you offer him that home? Can you think of anyone who could?
Logan is not the only horse at SAFE that deserves a home where he or she can feel safe, happy, and loved. We have many horses that are looking for "companion" homes, including: