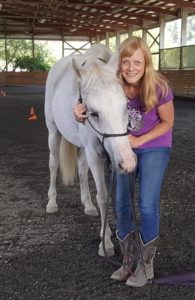 Nothing delights us more than to write these types of announcements and this one is very near and dear to our hearts. Donna came to SAFE like many other people do…by filling out the application for a horse with a pretty picture. After talking with her on the phone Terry knew there was a very good chance that Sierra would fit the bill for Donna. But there was one problem…Sierra had just barely been started under saddle! She would need a few more weeks in training and then a few more weeks before Donna could ride her. Luckily Donna trusted us and was open to the idea of waiting until Sierra was ready.
Donna started volunteering at SAFE weeks before Sierra came home from training! She helped Terry with other horses and we talked a lot about green horses and how she needed to prepare for Sierra. When Sierra came home Donna visited her four times a week. She helped groom her, do ground work with her, and began riding her. She was happy to start slow at the walk and before long she was riding at all the gaits. This gave the pair a great chance to bond before leaving SAFE and a little more time for Sierra to get confirmed under saddle and even out on the trails!
There is so much we love about this pair and we look forward to many great updates on their journey together. Donna had this to say about working with SAFE and adopting Sierra: "I want to thank you all so very much for all of your support during my time there these past 3 months getting to know more about Sierra and about SAFE! You have all been so helpful and friendly and I feel extremely grateful for all you have done for me. A special thanks to Terry for all you have taught me and your patience and very calming, always consistent presence as I muddled through my many hours of learning and re-learning. You are the absolute best!"
Little Sierra is settling in well and beginning to make friends with her new family. She is doing some vocalizing (surprise) and has made many new people friends as they go to pet her to let her know she is OK. (She may be hollering because she has learned that when she does, she gets lots of petting!) We all know that Sierra can easily wrap you around her little hoof with those big sweet eyes. Be warned Donna, she is a charmer! All our love and hope for you both on the wonderful adventure ahead!
Here are some fun photos of Sierra and Donna at the Joel Conner Clinic. This was her first days back at SAFE and Donna's first ride on her.