2017 was an absolutely incredible year for SAFE. We moved our entire operation from 3 acres in Woodinville to 11 acres just down the road in Redmond. We also had a record setting year in terms of adoptions, new intakes, and new volunteers, but the story for 2017 is going to be "The Move" and "The New Home." An extraordinary amount of work went into making this transition go as smoothly as possible, and making sure the changes had as little impact on the horses as possible. Once the move was completed, we began the huge undertaking of bringing our new home up to our standards and making the most of all the space now available to us. The amount of work that was accomplished in just 10 short months was astounding.
Which brings us to the subject of 2017 Volunteer of the Year.
Every year, we honor one individual whose hard work and dedication has made the biggest impact on the organization over the course of the year. The decision is never completely easy, but we've always managed to make a choice that feels right, one that is easy to celebrate. This year, however, after everything that happened in 2017, selecting a single person as Volunteer of the Year feels downright impossible! Such a wonderful problem to have, huh?
Here's what we're going to do: we're going to POSTPONE making a decision by presenting four nominees for Volunteer of the Year, and announcing the ultimate winner at the Volunteer Appreciation Party in Feb/Mar!
So, without further ado, the nominees for 2017 Volunteer of the Year are…
Candi Kintzley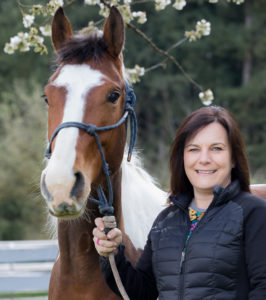 Candi has been part of SAFE for many years, but her involvement with the rescue grew tremendously following the move to the new property. Her accomplishments as a SAFE volunteer include a starring role in Heart of the Horse auction procurement; significant achievements in the field of mini horse wrangling, and a Best Supporting Volunteer Rider award for her work with Terry. She was voted "Most Likely to Go the Extra Mile" by everyone who has witnessed her work on the Facilities team and her stellar attendance record at SAFE work parties and special projects. A self-described "'get 'er done' kind of gal," Candi won our hearts with her cheerful attitude and her natural inclination to help when help is needed. "Give me a project, assign me a task and I will make sure it gets done." Candi made this bold claim earlier this year and has yet to let anyone down.
Jeanne Stine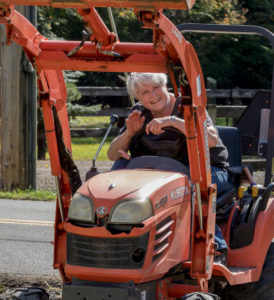 Since being named Volunteer of the Year in 2015, Facilities Manager Jeanne Stine has not stopped to catch her breath. Jeanne has always regarded Safe Harbor as her very own hobby farm, and her pride of ownership shows through in all that she does. But our Redmond farm has become Jeanne's magnum opus, her masterpiece, her…rock opera. Well-earned awards include Best Preliminary Farm Plan, Outstanding Creativity in the field of Wasted Hay, and a special Achievement Award in Shelter Building for MiniLand. Jeanne is a perpetual front runner for the title of "Volunteer We Couldn't Bear to Live Without" and due to her incredible kindness and her awe-inspiring spirit, she would still hold this title even if she never lifted a hammer again.
Jackie Liles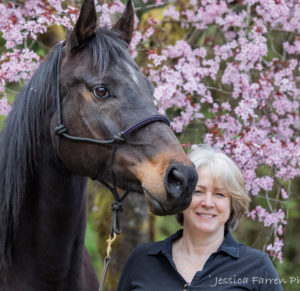 Over the past six years, Jackie has taken on numerous roles at SAFE, to the point where we sometimes forget she is still a foster! One only has to see her root beer float VW bug cruising down the driveway to know that the day is saved and all of our worries will soon be gone. Jackie's accomplishments as a SAFE volunteer are many. She is the current record holder in the 100 meter Mini Horse Haul & Hold, and she has taken home numerous trophies for her achievements in Mini Horse Sharing, the Mini Horse Meet & Greet, and of course, the individualized category of Sunny D Mood Monitoring. Jackie is internationally recognized for her excellence in the field of Competitive Thrift Store Shopping, and she has received multiple honors for Creative Problem Solving and Generosity. She is also renowned for her sense of humor, her strength, and her skills as a chain saw operator, in spite of being a woman.
Caren McMillen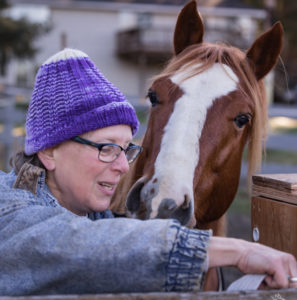 Our final nominee for Volunteer of the Year will be attempting to become the first to achieve back-to-back victories in this category. Caren has been volunteering with SAFE since 2014, and since the day that she arrived, she has steadily made herself so invaluable that we would now be lost without her. A top achiever in the field of Excellence & Reliability, Caren has made a name for herself at SAFE in many areas. However her breakout performance was her portrayal of "Highly Paid Professional Barn Employee" in the acclaimed HBO series Hungry Horses/Thirsty Horses, a role for which she received no payment at all. She also delivered a critically acclaimed performance in the film White Christmas at the Barn, and her debut single from the film's soundtrack album, "Hark the Herald Hoses Sing," has remained at the top of the Billboard charts for a record 14 weeks. Caren's devotion to the horses AND the volunteers has earned her the title "Most Beloved by Two or More Species."
And there you have it! The winner of this year's Volunteer of the Year will be announced at this year's Volunteer Appreciation Party on Saturday February 24. Your input and comments are welcome, but as always, the final decision is mine. Thank you!!