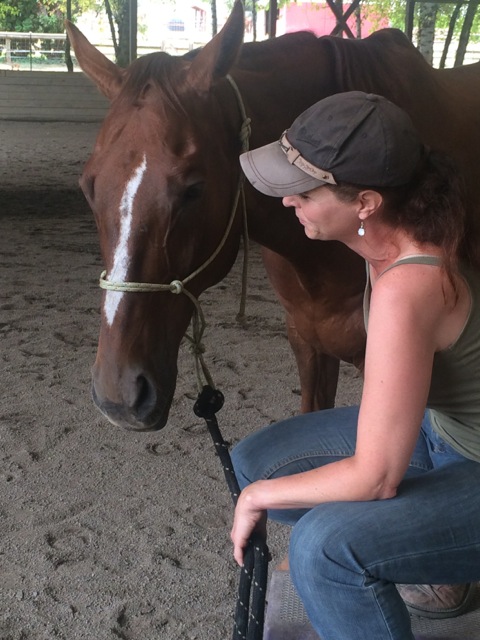 For the past 60 days or so, Ben has been on an extended trial with a Hunter/Jumper trainer who was interested in finding out if he had a future as a sporthorse. This was a wonderful opportunity for Ben, and a tremendous help to us because it meant that he would receive two months of professional training with Leah at Cypress Farm at no cost to our donors. Leah took things very slow with Ben, and introduced him to a whole new world of experiences. The first month of the trial was promising. Ben was put on a high calorie diet to help him gain the remaining weight he needed to put on, and Leah started lunging him under saddle to slowly start him back to work. From the beginning, he showed a lot of anxiety in the arena, and Leah focused a lot of helping him gain confidence and relax. Ben made close friends with a pony named Elmer, and he seemed quite content as he adjusted to life at Cypress Farm. Leah even took him on a field trip to the Washington Horse Park in Cle Elum, where he got to hang out at a rated Hunter/Jumper show.
But there were problems. Leah was able to start riding Ben again, but the anxiety he showed under saddle was not getting better. Given the opportunity, he might suddenly decide to relocate himself from one end of the arena to the other. Leah worked exceptionally hard to help Ben gain confidence…treating him with patience, kindness, and encouragement; creating the most positive experiences possible for the big red gelding. And she gave him so many chances to show that he was able to relax…but in the end, Leah had to admit to herself that Ben was not going to get there for her. He definitely seemed to be telling her that he didn't want to be a Jumper…but she feared he might be saying that about being ridden at all. Sadly, at the end of the trial, Leah made the difficult decision to not move forward with the adoption.
Yesterday, Ben returned to Safe Harbor Stables. We have not given up on him by any stretch of the imagination, but we need to try to understand what is going on with him. We need to figure out if his anxiety is behavioral or if there are any underlying physical problems that are causing his issues. A lot of "next steps" are being considered, and we hope there are answers that we can uncover. For right now, we know that big Ben does enjoy a life of leisure as long as there are plenty of entertaining and interesting things to watch. Safe Harbor provides him with the sort of lively environment that he loves best. Our Ben has come a long way, and while his journey isn't over, we enjoy this big goofy Thoroughbred gelding and we're happy he's home again for a while.
We are very grateful to Leah and Kim at Cypress Farm for giving Ben the opportunity to be adopted, and for being so committed to his well being. He looks terrific and happy, and that's what really counts in the end.