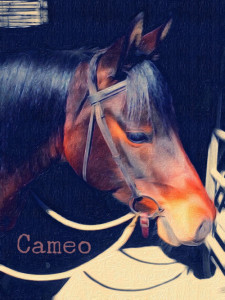 I had the chance to chat with trainer Laura McCorkle who's done a lot of work with Cameo over the past months and has seen the slow but steady transformation that this lovely mare has gone through. Laura laughs when she talks about Cameo's "ice princess" demeanor, because underneath that chilly exterior lies the softest, kindest mare in the world.
Cameo has really benefitted from the specialized hoof care she's received of late, and now that her hooves are in better balance, the muscle development in her shoulders has become more even. Laura says that Cameo is feeling her feet now, and she's a lot more balanced. Last ride, they got four canter transitions "without emotion," which is always a nice thing!
Like many young horses, Cameo is still learning to accept contact, and Laura says that while Cameo is physically capable of self carriage, she's still not quite able to deal with it mentally, at least not for very long stretches. She needs a lot of breaks when asked for contact, or she gets nervous, like she doesn't quite trust that she'll get the release she needs. So it's important when Laura asks Cameo for vertical flexion that she changes things up and asks her for lateral flexion to give her a break. This allows her to hold vertical flexion for longer stretches without getting tight in her jaw.
Laura says that Cameo responds beautifully to being asked to be supple herself within movement…so much so that Laura compares her to a little hippie dancer who needs a lot of freedom to express herself. In contrast, she really doesn't like to be asked to stand at attention. Someday she may graduate to becoming a ballet dancer with perfect control…but for now, weave her a crown of flowers and let her flow!