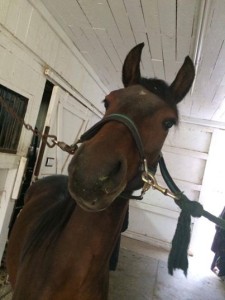 Cameo is continuing to progress in her work with Andrea Lucianna at Half Trak Farm. It's been a difficult journey for this mare, and she has her good days and not-as-good days, but she is moving forward all the time. It's important to keep in mind just how far she's come when looking at her progress. By those standards, she's absolutely remarkable.
She continues to go well under saddle and Andrea & Jenny are both pretty pleased with how her body is developing with steady, correct work. They're promising a new video and photos as soon as the weather improves. In the meantime, Andrea has started asking her to slow down and work in a more collected way of going, to try and focus her mind a bit. She leg yields nicely and is starting to sit her trot. Andrea says that physically she's pretty straight and correct. She is still developing her balance under saddle and will occasionally trip or stumble.
Cameo can still be very spooky and Andrea spends a significant amount of every ride dealing with that. Andrea feels this is just who she is and that she's always going to be spooky. Cameo's adopter will have to accept that about her, and be prepared to work through it. As we've said before, Cameo is a long-term project, and her perfect adopter is going to be someone who understands and accepts that.
Andrea has been testing having others tack her up. Andrea and Jenny have no problem getting a bridle on her. But, some people find the task impossible. She's good on the ground, and is usually pretty sweet, but she does go through phases where she doesn't want to allow herself to be caught. Then she turns back into the mare who comes at a gallop when she is called. Again, it's part of who she is.
Because of the bond that Andrea developed with her before starting her under saddle, Cameo is extremely loyal to Andrea and shows her a ton of try. Cameo has made progress in her interactions with other people, but Andrea remains the one person who does best with her. So again, we have to reiterate that a potential adopter for Cameo must understand that they will have to go through the same process of establishing a bond with her from the start. Once that bond is established, Cameo will belong to her person, and her person alone. Cameo needs someone with the heart and patience to give her that. In return, her adopter will have the sort of horse that will walk through fire for her person.
Cameo will remain in training with Andrea at least through the end of this month. It would be so beneficial to have an adopter who can go to Half Trak Farm multiple times to work with Andrea and Cameo before making a commitment to this mare. We want Cameo to find her person, so please help us by sharing her story with anyone you know who might turn out to be that person.
Below: Cameo under saddle with Andrea in the outdoor arena at Half Track Farm