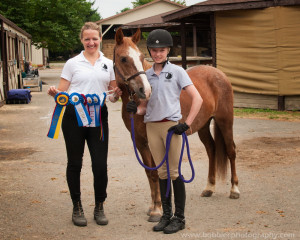 We're so proud of all the SAFE horses who competed at the SAFE Show this year, but one of them in particular put in an especially impressive performance. Along with her young rider, Miss Kirann Gable, our Mustang pony mare Maggie was champion of both the Trot Poles and Cross Rails Hunter Divisions, took Seconds in both of her Dressage tests, scoring 70.5% at Intro C and 62.292 at Training 1, and won her In Hand Trails class against 16 other competitors. Maggie and Kirann were an unbeatable pair this weekend, and we are so proud of them both. Kirann worked very hard to get ready for this show, and with the help of trainer Brittney Stewart, was more than prepared to face the judges and perform well in a new venue.
If you're looking for a proven show pony with pretty movement, very forward gaits, and a "been there done that" attitude, take a look at Maggie. She is small but mighty, and she can carry a confident child to victory in several different arenas! This little Mustang pony is truly a gem!
Thank you to Kirann, her family, and to Brittney for letting Maggie show everyone what she's capable of!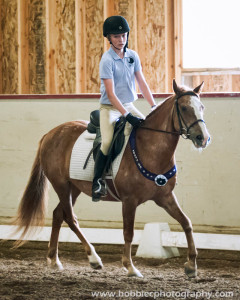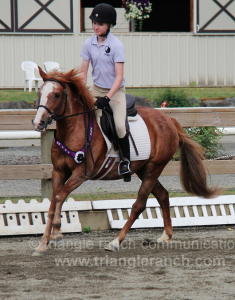 Maggie at the 2013 SAFE Show
Maggie photos, by Karen Wegehenkel
Champion, Clover Hunter Division
Champion, Lily Hunter Division
2nd place, Dressage, Intro Level Test C (score 70.5%)
3rd place, Dressage, Training Level Test 1 (score 62.292%)
1st place, Trails, In Hand, Open (against 16 other riders)
5th place, Trails, Mounted, Rider 13–17