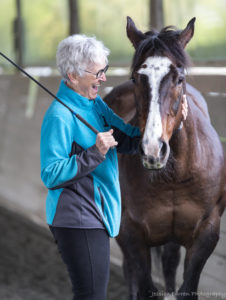 Some adoptions are just meant to be and have us saying YES without any hesitation. We are all literally jumping with joy to announce that Dyna has found a forever home with our amazing volunteer Jane! There was an instant connection between these two from the day Dyna arrived at SAFE. Even before we started riding Dyna, Jane volunteered her time to care for her and start her through rehabilitation, groundwork, and strengthening. These two are perfect for each other, both full of life and a ton of energy! Dyna is a trustworthy mare that needed just a little time to understand we were never going to ask more than she could do and Jane has opened her heart and life to a new and very important family member.
Dyna will never want for anything; Jane is a doting caregiver and both of them are enjoying every minute of their time together. Dyna is happy and content around Jane and your can see a true partnership in full bloom. It was wonderful to watch them grow together and we are so excited that Jane has found a barn to keep Dyna at that is right in the neighborhood. It was the first adoption where someone literally rode their horse home! Jane has offered Dyna to be the escort to any of the SAFE horses needing a trusting lead around the park for trail rides. We are so happy that we get to see these two on a regular basis.
We don't know a ton about Dyna's past but her future without a doubt is blessed and full of love! Congratulations Dyna and Jane and we will be seeing you on the trails!