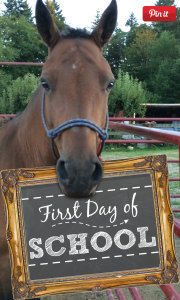 Yesterday was a big day for Mr Curly Pants: he left his foster home, where he's spent the last 6 months, and headed off to officially start his training. He'll be spending the next three months with trainer Matt Olson, who will work with Owen in hand and then start him under saddle when Owen is ready.
Owen is a very lucky horse because not long after he was surrendered to SAFE, his story caught the attention of one of our long time supporters, Liesel Filkowski. Liesel is the donor who bought us our trusty Kawasaki Mule with her donation in 2013, and she was looking for something special to help us with in 2014. As soon as she read Owen's intake story, she immediately called and said she'd like to designate her annual donation for his education. So before Owen even knew how to wear a halter, he had a scholarship fund in his name! A lucky horse indeed!
The trainer that we selected for Owen came highly recommended to us as a gifted horseman with a talent for starting horses under saddle, especially the challenging ones. He's been around horses his whole life, and recently graduated from the Equine Studies program at Feather River College in California. Matt is just getting started as a professional trainer, but he has plenty of experience working with horses very similar to Owen. He's got incredible timing and feel, a solid understanding of natural horsemanship techniques, and a genuine love for horses, no matter how easy or difficult. After meeting him and seeing him handle Owen, we decided that Matt was the trainer we were looking for to take Owen to the next level in his education.
We had to wait a couple of weeks for a stall to open up at Matt's barn, so Matt came out and did some training sessions with Owen at his foster home. At the point when Matt took over Owen's training, he was very resistant to allowing himself to be caught, but within a couple sessions, Matt was able to catch him easily and work with him in hand. He spent a good amount of time teaching Owen to allow him to pick up his feet in preparation to see a farrier…which is a bonus since Owen hasn't been trimmed since the day he was gelded. Not surprisingly, Owen did great in his pre-training sessions with Matt.
But for me, the moment of truth was yesterday when it was time to leave. Since Matt started working with Owen, I've made no attempt to catch him or even touch him, so that Matt could be the only one handling him. But yesterday when he was heading over to pick Owen up, Matt said it'd be okay for me to try to catch him if I felt like it. Keep in mind that this horse has not voluntarily let me touch him for almost two months, not since the day of the dreaded spray bottle incident. But yesterday, not only was I able to catch him in the paddock with very little trouble, Owen also calmly and sweetly let me pet him, touch him all over, even hug him, without a lead rope. The change in him was utterly amazing to me. And this was after just four sessions with Matt. My old friend was back!
The next "moment of truth" was loading into the trailer, but Owen literally hopped right in like he'd been doing it all his life. However, when it was time to unload at Matt's barn, he got a little panicky and left the trailer in a less-than-dignified manner, which meant that he had to get back in and try it again. But this time, Owen decided to resist re-loading, so his first day of school started the moment he arrived, with a trailer loading lesson! It took some doing but in the end, Matt was the winner, and it was interesting to watch Owen having to re-evaluate his place in the world. Owen has a stubborn side, but he was also smart enough to realize that it was going to be far more work to remain outside the trailer than to just get back inside. The lesson ended with a nice calm loading and unloading, and then we headed off to his new stall to meet his neighbors and get him settled in for the night.
We've encouraged Matt to share as much of the training process as he wants to using SAFE's Tumblr feed, and of course I can't wait to go visit him. Especially now that he's so friendly again! Best wishes to Owen in his new adventure and our sincere thanks to Liesel for making this possible for this amazing horse!