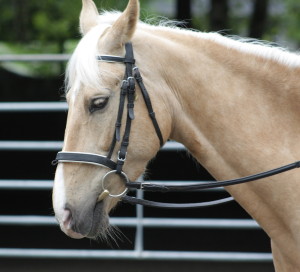 Handsome Phoenix — lovingly referred to by his friends at SAFE as our overgrown golden retriever puppy — is staying sound and happy in his rehab. As you know, he was diagnosed with a left front high suspensory tear in January. As far as we could put together, this injury was quite old so any acute treatments would not be very helpful. Upon consultation with Dr Lisa Krauter from Pilchuck Hospital, we began a 6 month walking rehab plan. We worked up to 45 mins of walk under saddle and after 6 months we trotted him and found him to look very good and sound. The next part of the rehab was an additional easy 3 months of walk, gradual working him up to 10 minutes of trot, and a slightly bigger run off his stall to move around.
We have started adding strengthening exercises in the walk including some shoulder fore, halts, and rein backs, as well as active and collected walk. He is also doing some light work over trot poles during his exercising rides. He is up to 5 minutes of trot and we will be adding 1 minute each week this month. He has just a little over one month left until we begin adding 5 minutes of trot every week. Some days, like Friday garbage day or the 4th of July, it's harder to keep Phoenix's excitement contained but overall he has been able to handle his time off with good behavior for such a young gelding. We are very happy that he is sound and very well behaved for his riders.
Here's Phoenix working under saddle with Lisa. Doesn't he look great?