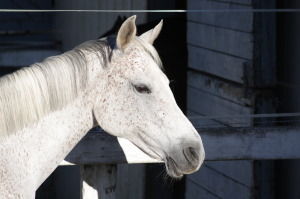 Since coming to Safe Harbor, Karma has gone through some very positive transformations. It took her a little while to relax and settle in, but with the help of Terry and her volunteers, she's making great progress. For example, she initially was very reluctant to spend any time at all in her stall, and had to be fed outside in her run. SAFE volunteer Robin spent several hours over the course of a couple days just hanging out with her in her stall, and now Karma seems much more comfortable being indoors. Terry also reports that while Karma was shy and standoffish when she first arrived, she'll now willingly follow Terry around in the arena with bright curiosity and a genuine desire to interact. The two have been doing a lot of liberty work together, and it's done a lot for Karma's confidence.
In working closely with Karma, Terry has come to believe that she was treated pretty roughly in her former home, which makes us all the more happy that Pierce County Animal Control removed her from that environment. Fortunately Karma is responding very well to the positive treatment she is receiving at SAFE, and Terry will continue working with her in hand and at liberty to strengthen their relationship and fine tune their ability to communicate with each other, before she makes any attempt to start riding her. Karma's feet are still causing her discomfort — she has some deep cracks along her heel bulbs due to lack of hoof care — but we're doing all that we can to make that better for her.
Karma has also made great progress with interacting with other horses. For a while, we couldn't really turn her out in the grass paddocks because she would scream and run the fences. But recently she's been a lot calmer, and when Terry turned her out in a paddock next to Chip, she remained calm and was able to enjoy being out on the grass. She's also been learning to accept being sprayed with a hose, and she's started trailer loading training. Trailering has been a big problem for Karma, and her reluctance to load has caused her to injure herself more than once, so it's a very good thing that she's able to re-learn trailering in baby steps. For now, Terry is just asking her to approach the trailer and stand quietly, and she's doing well with that.