Our amazing corps of volunteers has grown and there aren't nearly enough months in the year to recognize all of their hard work. So in 2019, we will be spotlighting two tremendous volunteers per month in an attempt to show our gratitude for all they do to make SAFE successful. This month we are pleased to honor shift-lead all-star, Leigh Mackey and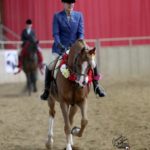 Leigh Mackey, Shift-Lead All-Star
Leigh has been with SAFE since November of 2016 when we were at the Woodinville farm. Leigh quickly demonstrated her reliability, warm nature, and confident skills with the horses. She was part of our original Shift Lead program and helped us make the transition to Redmond. Leigh has put in almost 250 hours of service (that we know of) and she is always happy to train new volunteers on her shift. She has contributed to SAFE all while keeping up a busy horse life of her own. Leigh is a native of Kirkland and currently lives on her own farm in Fall City. Her mom had Arabians when she was young and Leigh began riding at an early age. Leigh has 7 horses at her farm, 5 of which she actively shows. Leigh also volunteers with Serenity Equine Rescue and for WASART (Washington State Animal Response Team). And, if that isn't enough, she runs a foundation and manages apartments. Leigh loves being at SAFE, surrounded by people who are as passionate about horses as she is. She learns about horse keeping and training from her experiences with us and says she is able to apply that knowledge around her own farm. Leigh admits she has a thing for Arabians, so it makes sense she adores our sassy Cameo. We are thankful Leigh found us and that she continues to make time in her busy life to support us. Congratulations on being a January Volunteer of the Month, Leigh!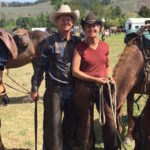 Phoebe Trocano, Horsemanship Volunteer
Phoebe is a Southern Louisiana native who currently works with horses in our horsemanship program. She started with SAFE as a chore volunteer in July of 2017 and moved up to Shift Lead before becoming part of the volunteer handlers. Phoebe has clocked over 300 service hours in her year and a half with us. She gives her time taking our SAFE horses in clinics with Joel Conner and in her regular training sessions with horses like Amelia. When she is not helping out at SAFE, Phoebe enjoys working leather and she has created some truly outstanding pieces of tack for SAFE horses and SAFE friends. Phoebe has family in the area and enjoys supporting them and playing with her grandson. Phoebe and her husband, Rick, live in Woodinville, but love spending time at their place in Pateros, WA. What Phoebe enjoys most about volunteering at SAFE is the opportunities to learn. She enjoys the ever-changing challenges of getting to know new horses and work them through their issues. Phoebe also feels warmly welcomed here at SAFE and enjoys her barn family. Thank you, Phoebe, for all you do and congratulations for being chosen a January Volunteer of the Month!