Rescued neglected horse set to compete in equestrian event
Posted Sept 20 2013
A neglected and near-starved horse that was rescued three years ago by King County animal services is now thriving and set to compete in an equestrian competition this weekend.
Delilah was one of five horses seized from a southeast King County farm in January 2010. Officials found the then-pregnant, underfed mare standing in knee-deep mud. Other animals on the farm were also in various states of neglect; some died or were euthanized. The animals' owner was cited for animal cruelty and fined.
Regional Animal Services of King County (RASKC) took in Delilah and, with the help of Save a Forgotten Equine (SAFE) in Woodinville, rehabilitated the horse and gave her a new home. Shortly after her rescue, Delilah gave birth to her foal, named Sampson. Both have been adopted by families.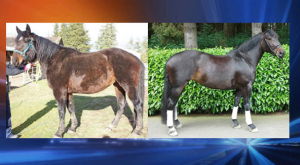 "While in our care, she put on muscle and now looks like a completely different horse," said Bonnie Hammond, SAFE Executive Director. "We recognized Delilah's natural talent during her recovery, and we are thrilled to see her now competing in dressage."
Delilah and her rider will be at Donida Farms in Auburn this Saturday afternoon for the Region 6 Dressage Championships. In dressage, considered an Olympic sport, a horse and rider perform a standard series of movements designed to showcase the horse's athletic ability.
"All of us at Regional Animal Services will be cheering for Delilah," added RASKC Manager Dr. Gene Mueller. "To see her thriving now is very rewarding."
Mueller says financial support from pet licensing fees and donations from the public allows Regional Animal Services to help animals like Delilah.
For more information about Regional Animal Services of King County, visit www.kingcounty.gov/pets. To learn more about Save a Forgotten Equine (SAFE), go to www.safehorses.org.
KING 5's Liza Javier contributed to this report.