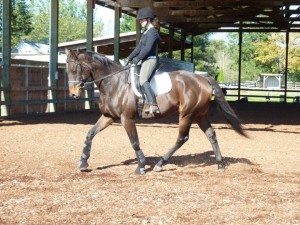 I rode Lucky today for the first time. We would have been on him sooner but he was pretty sore on his feet until we finally put front shoes and pads on him, and then we couldn't seem to go a day without him pulling one of them. But we have them back on, plus bell boots, so hopefully they will stay now.
Lucky was super under saddle. Really, really nice horse. Great to saddle, not girthy, opened his mouth right up for the bit. Stood quietly while I mounted. Lunged, but tense on the lungeline and so I didn't do much lunging. Once I was on the most surprising discovery was that he was actually quite lazy. Not balky at all, he would go forward, but at a rather leisurely pace. He didn't really seem to understand how to move forward off the leg, but never felt unsafe or sulky about going forward. After getting tired of thumping him with my legs I picked up a jumping bat, which he also didn't care much about, but did inspire him to move a little more forward and we walked and trotted for 20 minutes or so both directions. He's green, but he steers fairly well and is very willing. He did not feel at all lame…but he needs to learn to relax into the contact and use his back a bit more before his stride will really open up and feel nice, right now it feels a bit short and stiff. But that's tension…not lameness.
After I rode him a bit one of our volunteers Katie (who is a beginner) got on him and walked him around for a while and he was just as calm and relaxed as he was for me. Really nice horse…hard to believe he was recently off the track, he was just so calm and laid back. I am really hopeful for him now — this is a nice horse who is sound enough for easy trail riding — and probably calm enough for a relative novice to ride safely as well.