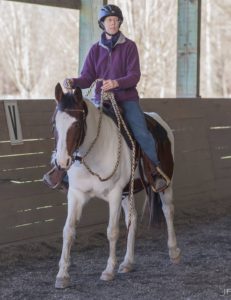 A lot has been happening with Nala girl! Once we moved to the new facility, we had enough room to move her back to the main barn and get her back into rehab and training work. Lindsay took her on as her riding project and did a fantastic job getting her going walk trot and canter again. She has been ridden for the last 4 weeks and looks great! We have taken her on a trail ride too and she led for a good portion of the way. We are excited that she is going so well and available again for adoption.
Ann took Nala in the Joel Conner clinic. Here is what she had to say about their experience together:
I worked with Nala in the afternoon riding sessions. Nala was great to work with because she has done several clinics and knows most of the exercises we worked on. Nala does not like to be ridden with much leg so I was challenged to use my seat to cue her with only minimal use of my legs. She can pick up and hold a soft feel. I was able to get her to halt and even back a few steps off of my seat while holding a soft feel. We practiced leg yielding and she maintained a soft feel and stepped smoothly over with very little leg pressure. She could use more work on short serpentines. she did not want to maintain a 90 degree bend and keep all four feet moving forward. She does well at the hindquarters/front quarters maneuver as long as I have my hand in the right position and time up with her feet to keep her balanced. Nala knows a lot and is a fun horse to work with. She should make her adopter very happy.